UNESCO Director-General Audrey Azoulay on 5 July named Nadia Nadim, the Afghan-born Danish football striker for the French women's Paris Saint-Germain team, UNESCO Champion for Girls' and Women's Education.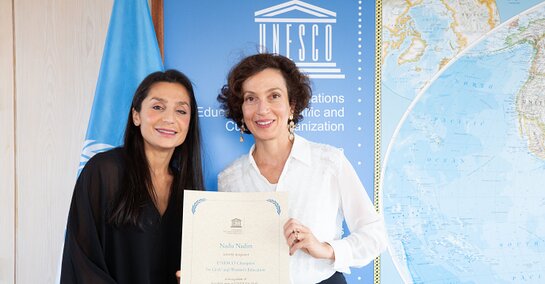 Ms Azoulay designated Ms Nadim in recognition of her role in promoting sport and gender equality, her contribution to UNESCO's educational action in favour of young people, advocacy for girls and women's education and support for the Organization's action worldwide.
The designation took place as UNESCO launched a major initiative, Her Education our Future to mobilize political and financial support for girls and women's education while working to improve the quality of data that education policy makers require to accelerate gender parity.
Ms Nadim was born on 2 January 1988 in Herat, Afghanistan. Following the execution of her father, an Afghan National Army (ANA) general in 2000, the family sought refuge in Denmark where Ms Nadim began her career in football, playing for B52 Aalborg football Club. In 2018, she published a book, My Story.
While pursuing her career in football, Ms Nadim is a student of medicine at the University of Aarhus (Denmark).
The star football player shares UNESCO's conviction that education can improve girls and women's future, their economic independence, self-confidence and ability to assert their rights. Ms Nadim's designation comes in recognition of her inspiring ability to serve as a role model, realizing her dream as part of a team, and her determination to put her heart and notoriety at the service of girls and women everywhere.
As a UNESCO Champion for Girls' and Women's Education, Ms Nadim joins UNESCO's family of distinguished champions, committed to the Organization's ideals and objectives, like the football players Edson Arantes Do Nascimento (Pelé) and Rabah Madjer.