UNICEF Goodwill Ambassador, Lilly Singh, travelled to South Africa this week to meet children who are speaking out on classroom violence and bullying, as part of UNICEF's work to end violence in schools.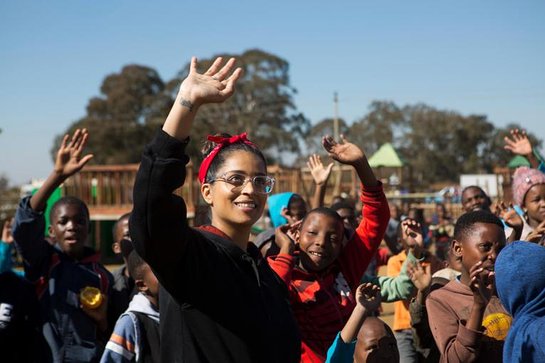 During her visit, Singh, who is also known by her digital alias IISuperwomanII, led a discussion with a group of students aged 13 to 19 from across Johannesburg, to hear their personal stories of violence and what they need to feel safe in and around school.
"I met with children and young people who have experienced a range of violence, from bullying and physical attacks to corporal punishment, sexual assault and harassment," said Singh. "No child should have to face violence at school, a place where they should feel safe and protected."
The visit kicks off the first of UNICEF's #ENDviolence Youth Talks, a series of student-led discussions taking place around the world that will give young people a platform to share their experiences of violence and voice what they need to feel safe at school. The talks will be part of a collective effort to end violence in and around schools by organisations including UNICEF, the Global Partnership to End Violence Against Children, DFID and UNESCO, and will inform a set of recommendations to global leaders.
Sexual violence and bullying at school are among the top issues concerning young people in South Africa. Almost half of students in Grade 8 – on average 15 years old – report having experienced bullying in school on a monthly basis. In addition, among 15-17-year-old boys who reported experiencing sexual abuse by a peer, almost 1 in 3 said the most recent incident had occurred at school, while this figure is closer to 1 in 4 among girls of the same age.
"In my work with UNICEF, I continue to see first-hand how this generation is coming up with creative and innovative ideas to help end violence in their own schools and communities, through forming peer-led groups, as well as speaking out and creating safe spaces for students to tell their stories," said Singh. "As I listened to the children and young people, it underscored how vital it is that we involve them in problem-solving and continue empowering them to use their voices."
In South Africa, UNICEF, alongside government (including the Department of Education) and partners, has established Girls Education and Boys Education Movement (GEM/BEM) clubs in public schools. These student-led clubs – running in an estimated 2093 schools, with 975 trained club members – help promote mutual respect and dignity between girls and boys. Students are encouraged to speak out and take action on issues affecting them such as violence, abuse and bullying, and are able to get the support they need. UNICEF also supports teacher and student training to identify, prevent and manage violence in schools.
As part of the visit, Singh also met children at a local Isibindi (which means courage in Zulu) Safe Park in Freedom Park, Soweto – one of 400 Safe Parks and drop-in centres across the country. Safe Parks are centres for children from disadvantaged backgrounds who are potentially at risk of violence, abuse, neglect and poverty. Children attend before and after school or on weekends and take part in activities such as playing, reading, singing and dancing. They also have access to counselling and education support, as well as breakfast and lunch.
Singh also met young reporters as part of The Children's Radio Foundation (CRF), a UNICEF partnership with 18 community radio stations that gives young people radio training as an opportunity to make their voices heard on issues that are important to them, including HIV/AIDS, education and violence.
UNICEF and Lilly Singh are encouraging young people around the world to use the hashtag #ENDviolence to share what they need to feel safe in and around school. Comments will inform a set of recommendations to global leaders.