It was more than chance for Chance Yon, who spent a magical afternoon with Seth MacFarlane, touring the studios of Family Guy, American Dad! and The Orville.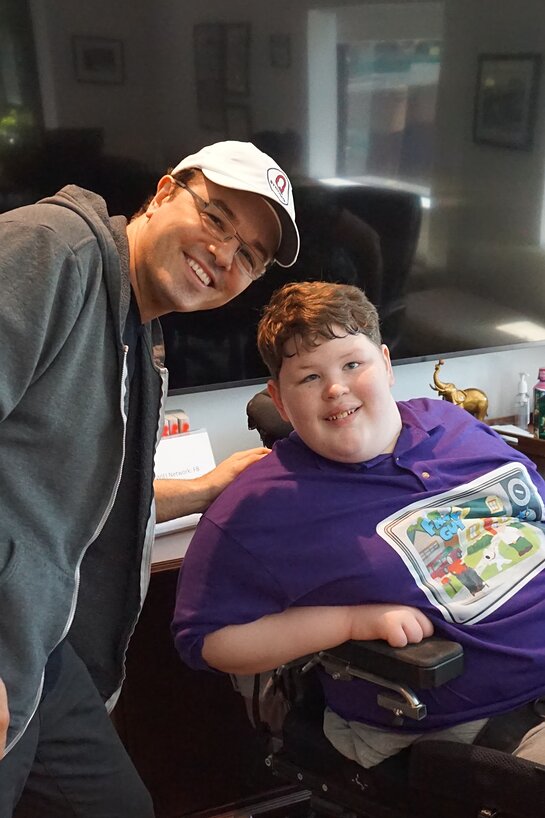 He received his comically colorful wish through Kids Wish Network, a children's charity that grants wishes for kids with life-threatening illnesses. Chance suffers from cerebral palsy, ROHHAD, neurological issues and visual impairment.
Kids Wish Network flew Chance and his family to Los Angeles to experience his favorite sitcom Family Guy. When Chance arrived at The Orville's studio, he was greeted by balloons, welcome signs and show creator Seth MacFarlane. Everything was personalized, from his favorite color to his favorite meal that he enjoyed as MacFarlane drew and signed sketches of Chance's most adored characters. He also performed voices, and made calls to fellow actors Seth Green (Chris Griffin) and Mila Kunis (Meg Griffin) to chat with their honorary Family member. "I cried when he first met Mr. MacFarlane," said Chance's mom. "I was overwhelmed with the way he spoke with him, like they were old friends." Chance showed his appreciation giving MacFarlane a painting that he made for him, and a custom Family Guy shirt from Kids Wish Network, matching the one he was wearing.
At the Family Guy&American Dad! studio, Chance spent time with writers, animators and his favorite Family Guy director John Holmquist. "Everyone was amazing with Chance and treated him like he was a part of their family," said his mom. "They thanked me for sharing Chance with them." He got to preview a future episode, digitally color a scene, and animators transformed him into his own character to create extraordinary mementos. MacFarlane gave him a framed and signed picture of Chance watching TV with Family Guy's family, and gifted a custom video of Family Guy, produced with audio that Chance and his mom voiced in the recording studio. He also received lots of memorabilia from Family Guy, American Dad! and The Orville. He took home so many souvenirs and memories, with one taking him to new heights. After learning that Chance's flight to California was his first and not very comfortable, MacFarlane surprised Chance by chauffeuring him home on his private jet. His mom said, "As we were packing, Tambra (Kids Wish Network coordinator) knocked on our door and gave us unbelievable news that Mr. MacFarlane wanted to fly us home! There were so many moments that I had to choke back tears." Chance jokingly said he's no longer flying commercial.
During the wish, they enjoyed stylish accommodations at the iconic Andaz West Hollywood.
Kids Wish Network Executive Director Tam Lai said, "Mr. MacFarlane, I'm grateful for your abounding kindness. Chance's sweetness was so endearing to us, and we're so happy that he touched your heart as well."
Kids Wish Network is a national charitable organization dedicated to infusing hope, creating happy memories, and improving the quality of life for children with life-threatening conditions and struggling with life-altering situations. KWN provides for trip expenses, meals, accommodations and additional spending monies to all wish families whenever traveling as applicable. Visit www.kidswishnetwork.org to learn about our different programs, and refer a child now.