Holly Willoughby was left "inspired" after an interview "like never before" with 17-year-old, Bodoor, who told her about her experiences as a child refugee living in Jordan.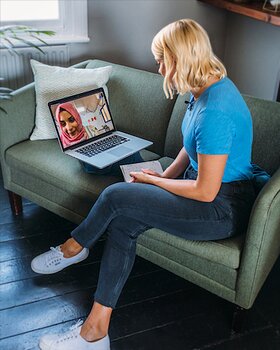 Holly spoke to Bodoor over webcam and found out that despite the challenges that had been thrown at her, she is still determined to get an education and dreams of being an astronaut.
When she was just five years old, Bodoor fled Syria with her family to escape conflict and had to walk over nine hours in scorching heat to find Azraq Refugee Camp in Jordan, where she lives with her family today. Bodoor told Holly how her life has changed drastically, from living and playing in her familiar home streets of Syria, to living in a refugee camp with limited resources in a foreign country.
One thing that didn't change was Bodoor's passion for education and her dream of space exploration. If anything, this intensified, as when she first moved to the camp there was no electricity in her new home, so she could see the stars more clearly than ever. Bodoor dreams of being the first female Syrian in space and studies hard to make that dream come true.
Holly Willoughby, Garnier UK Ambassador, said: "I felt so inspired after speaking with Bodoor. I've done a lot of interviews in my life, but that was one like never before. Hearing about her experience as a refugee gave me a real insight into what it's like for children who've left their homes to escape conflict.
"She told me how important the simple things are like having friendships and getting an education. I had to keep reminding myself that the girl I was talking to was only seventeen because she had such a wise head on her shoulders. It made me realise how we can sometimes take things for granted here and how important it is for every child, regardless of where they're from or where they live, to have an education.
"The work Unicef UK does to help children like Bodoor is vital and I'm so pleased to have been asked by Garnier to support this partnership. Together we can help support Unicef's vital work to ensure every child has access to an education."
In 2019, Garnier is committed to continuing its support for Unicef and plans on raising 1.6 million globally to ensure Unicef can continue its vital work with children worldwide. This July, we're really excited to be launching our first Garnier and Unicef product activation in the UK on some of Garnier's most well-loved brands including Micellar water and Ultimate Blends. To support Unicef's mission to help all children survive and thrive even in emergencies, Garnier will donate £1 for every special stickered product purchased in Asda stores nationwide from July while stocks last to a maximum of £445,000. Unicef does not endorse any brand or product.