On Wednesday, November 6, Hope for Depression Research Foundation (HDRF), the leading non-profit dedicated to advanced depression research, held its 13th Annual HOPE Luncheon Seminar at The Plaza Hotel. The seminar focused on "Depression and Anxiety: Diagnosis and Latest Treatments" with top doctors sharing the latest advances in psychiatry, including a potential new treatment being developed by the Foundation's acclaimed Depression Task Force of brain researchers.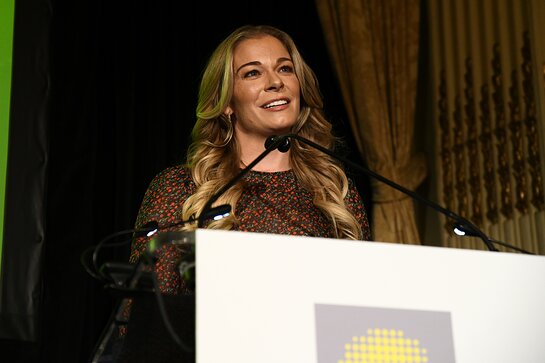 The day culminated with multi Grammy Award Winning, singer songwriter LeAnn Rimes, who made the room of 350 attendees tear up as she shared her story about finally entering treatment for depression and anxiety.
"A day after my 30th birthday I checked myself in to treatment," said Ms. Rimes, recipient of the 2019 HOPE Award for Depression Advocacy. "Honestly, it was the best birthday gift I could have ever given myself because I don't know if I would have made it to the next one."
Master of Ceremonies Chuck Scarborough began the event with a review of the year's headlines in mental health, including the fact that depression and suicide are on the rise, especially in teens. He shared the shocking statistics that depression is the leading cause of disability and suicide worldwide and pointed to the urgency of HDRF's brain research into the prevention and treatment of depression.
The keynote speaker, U Penn's Chair of Psychiatry Dr. Maria Oquendo, gave an illuminating medical overview of depression and anxiety, two complex conditions that are misunderstood but widespread. Depression affects 18 million people in the U.S. annually, and anxiety affects over 40 million U.S. adults annually; many people experience both conditions at the same time. Dr. Oquendo said that disrupted circuits in the brain underlie depressive symptoms like slow motor movements, rumination and anxious thoughts, and the inability to feel pleasure. Doctors can view those disrupted circuits with advanced brain imaging tools, she said, and this brings better accuracy to diagnosis and treatment.
Dr. Eric Nestler, Director of the Friedman Institute at Mount Sinai, then gave an update of the research progress of HDRF's acclaimed Depression Task Force, of which he is Chair. Ten of the world's most powerful labs have joined forces to accelerate life-saving discovery, and this fall they will start a clinical trial on a potential new antidepressant compound that shows promise for treatment-resistant depression.
HDRF Founder & Chair Audrey Gruss applauded the advances in research, and then discussed how public awareness of depression is breaking new barriers. She saluted TV shows like Modern Love and publications like People Magazine for bringing depression into the open and making it safe to talk about mental health. This month People launched a year-long series that will highlight stories of celebrities and ordinary people who have experienced depression; many of those profiled have survived suicide.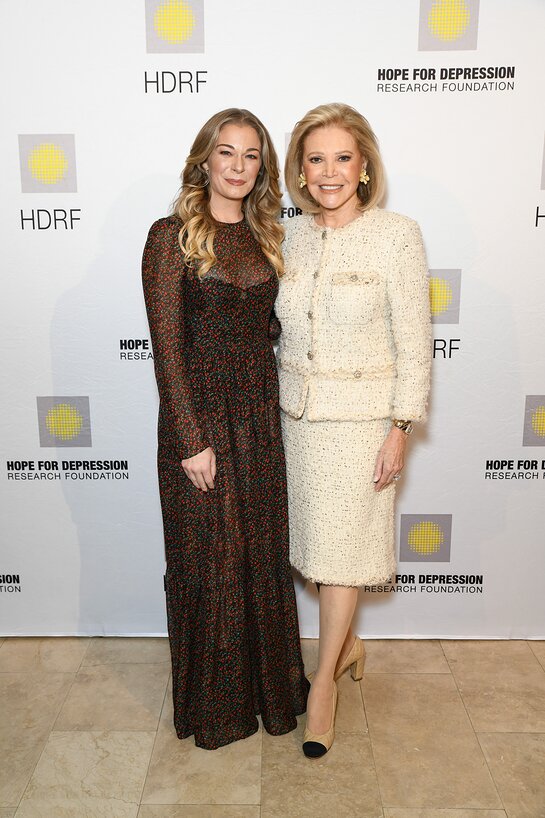 Gruss also shared the inspiration behind HDRF, stating that the foundation was started more than 13 years ago in honor of her mother, Hope, who struggled with depression. She also announced a new Hope Fragrance line, which will launch at Bergdorf Goodman on February 3, 2020. The line consists of the original Hope fragrance as well as two new scents: Hope Sport and Hope Night. One hundred percent of net proceeds of sales will go to HDRF's depression research.
Gruss then introduced the real woman behind the Anne Hathaway character in the Modern Love series on Amazon: Terri Cheney. Cheney is an author, attorney, and mental health advocate who has written poignantly about navigating career and dating with bipolar disorder.
"Not in my wildest dreams did I think that being spectacularly bi-polar would one day bring me to a podium at The Plaza" said Cheney to warm laughter in the audience. Cheney is the author of Manic: A Memoir and her second book, Tell Me Where It Hurts: A Manual to Modern Madness, is due out next year.
HDRF Executive Director Louisa Benton gave the crowd a recap of HDRF's work during the year to raise mental health awareness and educate the public about the facts of depression. The Foundation's Race of Hope is a 5K Walk/Run that launched in Palm Beach in January, where it raised $300,000; The Race of Hope also marked its fourth year in Southampton in August, with 750 participants and raising over a quarter of a million for research.
Benton also announced HDRF's newest public awareness program, Next Generation Mental Health, which puts science into action by bringing students, teachers and parents to talk with neuroscientists about healthy brain development. In 2019, the program focused on the public health issue of bullying and its impact on the brain. Statistics show that children who have been bullied have a greater risk of developing depression later in life.
To wrap up the day, Audrey Gruss presented the HOPE Corporate Visionary Award to Dr. Husseini Manji and Janssen Research & Development for their longstanding commitment to research into complex mood disorders like depression. In March 2019, the FDA approved Spravato, a new treatment for severe depression that was decades in the making. Janssen Pharmaceuticals championed Spravato and invested many millions to bring it to market under the leadership of Dr. Manji, Global Therapeutic Head for Neuroscience at Janssen Research & Development, LLC.
In the day's finale, Audrey Gruss presented the HOPE Award for Depression Advocacy to LeAnn Rimes, who delivered a speech that brought the audience to its feet in a standing ovation.
"Her resounding message is that depression and anxiety are serious health issues that require and deserve professional attention," said Gruss. "She spoke up, because she knew to hide would only perpetuate stigma, and make it harder for people to ask for the help they need."
Ms. Rimes took to the stage and spoke straight from the heart about her journey through anxiety and depression. She touched on traumatic events in her childhood with parents who divorced bitterly when she was 14. She spoke about a lawsuit with her father that lasted throughout her teens until she was 19. She spoke about the severe public backlash that occurred when she started her relationship with Eddie Cibrian, her husband of now nine years. At the time both she and Eddie were married to other people. These stressful life events, compounded by being in the public eye, took a toll on her both physically and mentally.
"I wasn't sleeping, I couldn't get out of bed, which made no sense to me," she said, at times fighting back tears. "I was having debilitating panic attacks where I could not breathe and honestly, I think I've been holding my breath my entire life."
The Luncheon Seminar Co-Chairs were Ann Barish, Natalie du Pont Edmonds, Peter Gregory, Tania Higgins, Margo Langenberg, Marigay McKee, Kitty McKnight, Serena McKnight Bowman, Peter S. Paine III, Vera Serrano, Nancy Silverman, Scott Snyder and Felicia Taylor.
Additional guests included: Jamee Gregory, Geoffrey Bradfield, Janna Bullock, Susan Fales Hill, Sharon Loeb, Susan Gutfreund, Karen LeFrak, Ken Sunshine, Jean Shafiroff, Jay McInerney, Christine Mack, Marina Pellechi, Lis Waterman, Frederick Andersen, Kim Heirston, Kristen Krusen, Hilary Geary Ross, Dayssi Kanavos, Ellen Scarborough, Susan Lloyd, and Carol DeLouvrier.
ABOUT HOPE FOR DEPRESSION RESEARCH FOUNDATION
HDRF's mission is to fund the most innovative neuroscience research into the origins, diagnosis, treatment and prevention of depression and other mood disorders – bipolar disorder, postpartum depression, post-traumatic stress syndrome, anxiety disorder and suicide.
In 2010, HDRF launched its Depression Task Force – an outstanding collaboration of ten of the world's leading laboratories, at the frontiers of brain science, from different research institutions across the U.S. and Canada. These scientists have developed an unprecedented research strategy that integrates the most advanced knowledge in genetics, epigenetics, molecular biology, electrophysiology, and brain imaging. To accelerate breakthrough research, they share ongoing results, in real time, at the HDRF Data Center. For more information, visit: www.hopefordepression.org