The Children's Place, Inc., the largest pure-play children's specialty retailer in North America, is excited to announce its 2022 Back-to-School campaign in partnership with award-winning actor, comedian, best-selling author and philanthropist, Kevin Hart.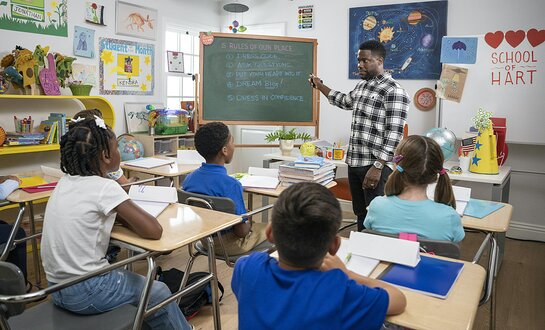 With the goal of empowering children through reading and continued education, The Children's Place alongside Mr. Hart, will launch a number of learning centers across the country. Located in deserving neighborhoods, these learning centers are fun, safe spaces which will encourage creative exploration and discovery among children.
Kicking off the back-to-school season, the Company and Mr. Hart unveiled the first community learning center at NYC Parks' Thomas Jefferson Recreation Center today, in East Harlem, in New York City. The Children's Place team, Hart, NYC Parks Commissioner Sue Donoghue, and other NYC government officials, conducted a ribbon cutting ceremony and grand opening event with fun activities for children and families from the East Harlem community. Hundreds of children filled colorful, imaginative space with books in hand, while listening to Mr. Hart as he hosted an exclusive read-along from his book, Marcus Makes a Movie, the first in a highly illustrated middle grade series published by Crown Books for Young Readers, an imprint of Random House Children's Books. The grand opening event also included immersive and experiential activations, including a branded school bus. The Children's Place School Bus was stocked with backpacks filled with back-to-school products and accessories, and school supplies provided by BIC including pencils, markers and more.
"The Children's Place is committed to giving back, and moreover, we understand the importance of access to education and supporting key moments that will shape children's lives," said Maegan Markee, Senior Vice President of Marketing of The Children's Place, Inc. "Kevin Hart was the perfect partner to help launch this year's back-to-school campaign. He too advocates for children's continued education, both in and out of the classroom, and as a father, sees firsthand the impact that access to books, and both play and practice materials can have on a child's life. We couldn't be more excited to work with Kevin to give back to our future leaders of tomorrow."
Scaling the program to deserving communities nationwide, The Children's Place will continue its efforts in launching an additional nine learning center locations through the Fall of 2022. Working collaboratively with local libraries, community centers and ThriftBooks, the leading independent online seller of new and used books, The Children's Place reading centers will each feature thousands of books, totaling to over 20,000 books donated by ThriftBooks to stock the spaces. Each space will feature comfortable seating arrangements, interactive chalkboard walls, and empowering wall murals and artwork to serve as a safe haven where children in each community can gain access to reading materials and learning supplies, while also allowing themselves to thrive in imagining.
"As a father, I understand how school, education, and reading material can influence rising generations. Whether opening a new book, taking on a new challenge in the classroom, or making memories with fellow students, these are the times that most impact a child's life. This is the reason why I wrote my Marcus book series, Marcus Makes a Movie and Marcus Makes it Big. When The Children's Place told me what they were up to, I had to join them," said Kevin Hart. "Over the last two years of the pandemic, I've seen first-hand the challenges that children are facing when it comes to learning, making my partnership with The Children's Place even more important to me. I'm thrilled to be a part of this powerful campaign to provide an inspiring, much-needed space for kids, right in their own communities."
"We are happy to partner with The Children's Place and Kevin Hart in opening this beautiful new learning center in East Harlem," said NYC Parks Commissioner Sue Donoghue. "Thomas Jefferson Recreation Center is an important resource for surrounding communities – and thanks to this investment through our Adopt-A-Park program, the facility now offers a bright colorful space where kids and families can focus on reading, learning, and creativity."
"At
BIC
, we have a long-standing commitment to improving lives through education," said Katty Pien, BIC's Vice President of Marketing for North America. "Giving children the opportunity to combine learning with creativity and self-expression helps engage students, whether that's at school, in the community or at home. With back-to-school season around the corner, we are delighted that BIC's partnership with The Children's Place will help support children across the country to be their best and most imaginative selves."
To continue to encourage children's confidence and self-expression, The Children's Place will also be sponsoring a 'Show Us Your Personali-TEE Contest'. The contest encourages families to imagine, create and submit a graphic illustration they would like featured within the Brands' upcoming graphic tee collection.
For more information about The Children's Place Back-to-School Campaign and to shop the brand's Back-to-School product collection, please visit www.thechildrensplace.com and follow @ChildrensPlace on Instagram and Facebook.
The project at Thomas Jefferson Recreation Center was made possible through NYC Parks' Adopt-a-Park program, where organizations, groups, and individuals contribute to improving New York City's parks. For more information, visit nyc.gov/parks.