On Saturday evening, the Human Rights Campaign (HRC), the nation's largest lesbian, gay, bisexual, transgender and queer (LGBTQ+) civil rights organization, hosted its Greater New York Dinner.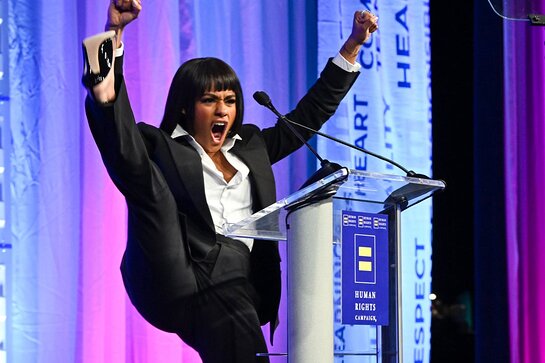 The event featured remarks from HRC's president Kelley Robinson, who used her platform to give a rally cry to inspire change, hope, equality and liberation for all.
"In this new chapter, HRC will center on equality and liberation for all. Period. Without exception. Yes, I'm talking about trans justice, racial justice, reproductive justice, and a whole lot more…In this new chapter, HRC will have the audacity to build a world where LGBTQ+ people can be safe, celebrated, and joyful in all aspects of our lives. We're gonna keep building workplaces that work for all of us. We're gonna keep building schools where all kids are welcome. We're gonna build a health care system grounded in equity and inclusion. We're gonna keep fighting to defeat stigma and end the HIV epidemic in our lifetime. We're gonna keep lifting up artists and actors and changemakers, so we can show the world what queer lives look like, what queer brilliance is." Human Rights Campaign President Kelley Robinson said in her remarks.
"The visibility is not only for me," said Ariana DeBose. "It's for others – and it's a privilege and an honor to speak up and speak out on their behalf. I also now know visibility to be an act of bravery. Again, not only for me – but for the young and yearning, the closeted and cloistered, those who are fighting for the simple right to be treated with the same dignity and respect that every heteronormative person is granted. Visibility is about bravery. An act of shere will and courage to wake up everyday and be exactly who you are in a society that will have you believe that it's unsafe to do just that in order to maintain the status quo of comfortability."
The event also featured speeches by Senate Majority Leader Chuck Schumer and Senator Kirsten Gillibrand. Academy Award-winning actress Ariana DeBose was honored with the HRC Visibility Award, presented by actress Cecily Strong and artist Kehinde Wiley was honored with the HRC National Equality Award.