You Gotta Believe (YGB), a New York City-based, national organization that focuses exclusively on finding permanent parents and families for older kids in foster care, hosted its 9th annual Voices: Stars for Foster Kids benefit concert at Town Hall in NYC, on Monday, September 18th.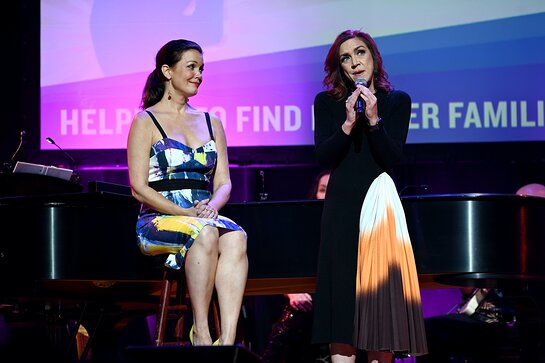 Created and hosted by Stars In The House's Seth Rudetsky and James Wesley, the benefit concert featured special performances and appearances by Donna Murphy, Patina Miller, Adam Pascal, Sharon Catherine Brown, Javier Colon, Ta'Nika Gibson, Matt Gould, Norm Lewis, Griffin Matthews, Gracie McGraw, Krysta Rodriguez, Cody Saintgnue, NaTasa Yvette Williams, Bellamy Young, Andrea McArdle and Executive Director of You Gotta Believe Jennifer Pinder. The evening was be directed by Brenda Braxton with music direction by Seth Rudetsky. Other guests in attendance included: Jackie Hoffman, Our Lady Jay, Tom Cavanaugh, Juwan Crawley, Jackson Walker, and others.
Special Moments included:
*Bellamy Young sharing her personal story of being a foster child – and at 8-years-old identifying with the song "Maybe" from the musical ANNIE. After she shared her touching story with the crowd at Town Hall, the original "Annie," Andrea McArdle surprised Bellamy on-stage and sang "Maybe" to her.
*Actor & model Cody Saintgnue sharing his own story about of being in foster care and later adopted – and what his family means to him. The "Voice" winner Javier Colon came on-stage to sing "Somewhere Over the Rainbow" – a song that reminded him of his childhood, to him.
*Griffin Matthews & Matt Gould sharing their family's story of adopting their two children.
Today nearly 400,000 children are in foster care in the United States, and every year as many as 22,000 youth will age out of the foster care system. Without the safety net of a forever family to provide the security and comfort most take for granted, these young people are left on their own to face a future filled with hardships — from lack of education to unemployment, higher rates of incarceration, poor health, early parenthood and homelessness. A staggering 20% of youth who age out alone will experience homelessness – that's 4,000 homeless kids each year.
Due to the transformative work of YGB since 1995, thousands of parents have been trained to make an unconditional commitment to youth in care, over 750 families have been licensed as foster families after receiving training through YGB, and nearly 375 older youth have been adopted into families trained by YGB. YGB offers families perpetual support, including counseling and mental health services, to ensure permanency.
Created by Seth Rudetsky and James Wesley in 2015, Voices: Stars for Foster Kids brings together the very best performers from the American stage and screen to raise awareness about the plight of kids in foster care, particularly those aged 10 and older who are in danger of aging out of the foster care system alone. Combining celebrity, music, and everyday people sharing their incredible stories, Voices: Stars for Foster Kids directly benefits YGB's mission to find permanent families for older kids in foster care. Since its inception in 2015, Voices: Stars for Foster Kids has raised $3,392,300 for YGB.
For more information on You Gotta Believe, VIP tickets, and sponsorship opportunities, please visit YouGottaBelieve.org.