Chef, restaurateur, bestselling author, award-winning TV host, and culinary superstar Guy Fieri announced today the inaugural Guy Fieri's Flavortown Fest, an action-packed weekend of food, flavor and fun in Fieri's signature style and birthplace of Columbus, Ohio, taking place June 1-2, 2024.
Redefining the traditional festival experience, the two-day fun fest will fuse food and funk, bringing to life the one and only Flavortown, embodying Fieri's larger-than-life energy and charitable spirit every step of the way. Two-day tickets are on sale now starting at $155 and can be purchased at www.flavortownfest.com.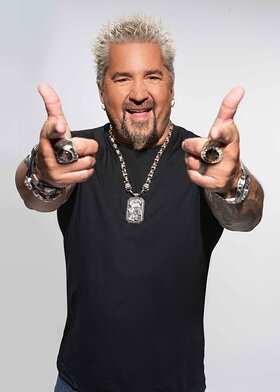 Guy Fieri's Flavortown Fest will take over The Lawn at CAS, a 54-acre campus located on the scenic Olentangy River, which runs through the heart of the city. Guy Fieri has called his friends, including the nation's top chefs and jaw-dropping music artists to make the inaugural event one you can't miss. From the most exciting restaurants, vendors and culinary demos to hands-in-the-air superstar performances, Flavortown Fest will offer the ultimate experience for foodies ready to eat, drink and party with the Mayor of Flavortown. Flavortown Fest is bound to surprise you at every turn just when you think you've seen it all.
"I was actually born in Columbus, Ohio, so one might say it's pretty much the birthplace of Flavortown," said Fieri. "But in 2024, we're making it official with the launch of Flavortown Fest, two full days of awesome music, the best chefs, real deal food from around the nation and a whole lotta fun that you're gonna have to see to believe! This festival will truly be the first of its kind and I couldn't be more stoked to bring it to my original hometown."
Committed to making an impact on the community, Guy Fieri's Flavortown Fest in partnership with the Guy Fieri Foundation, will donate a portion of proceeds from every ticket sold to support various charities in and around the Columbus area with a focus on First Responders, Veterans and more.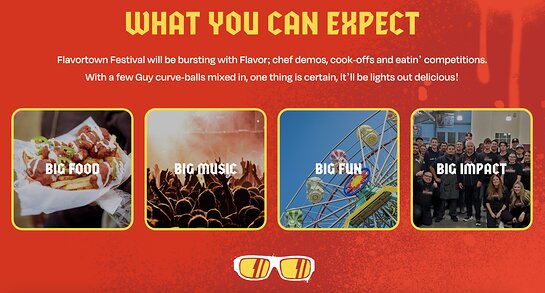 "We are so proud to host the inaugural Guy Fieri's Flavortown Fest on The Lawn at CAS," added Dr. Michael Dennis, Vice President CAS, a division of the American Chemical Society. "The Lawn has become a premier destination for the biggest events in Columbus and Guy Fieri's Flavortown Fest will be no exception. This is going to be an exceptional culinary, music and entertainment experience for the city that's full of fun and will help support the efforts of our hardworking community."
Guy Fieri's Flavortown Fest will be unlike any other festival. Like Guy, it will be bold, loud, bad-ass, and full of flavor with unparalleled surprises, one-of-a-kind programming and Guy-curated curveballs all weekend long.
Additional events, programming and headline performances will be announced soon. Two-day GA and GA+ tickets are on sale now and fans who purchase tickets between November 18 and December 9* will be eligible for VIP upgrades at Guy Fieri's Flavortown Fest. VIP and hospitality experiences will be available to take the flavor up a notch with premium seating, exclusive access and more.
For more information, visit www.flavortownfest.com and be sure to keep up with us on social at @FlavortownFest on all platforms.
*Terms and conditions are available on the website.