Kids in NY were treated to tips from tennis stars Roger Federer, Rafael Nadal, Maria Sharapova and Serena Williams in NY last week.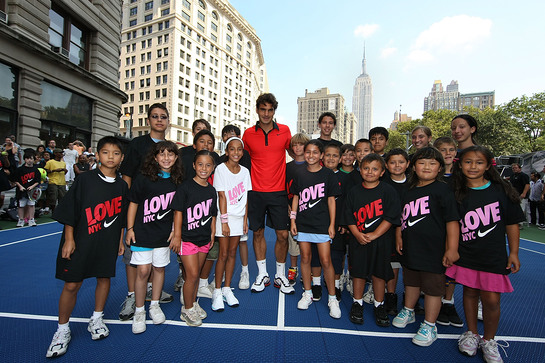 Fans and youth from New York Junior Tennis League, Athletes for Charity, New York City Parks Foundation and Mentoring USA were on hand to learn from the pros at Nike's 2009 unveiling of the US Open's 'look'.
"This is an exciting opportunity to bring the thrill of the US Open directly to tennis fans in New York," said tennis icon John McEnroe. "Providing a platform for kids to experience the beauty and power of this game and meet their tennis icons is incredible."
A temporary court was set up for the event at 23rd Street and Broadway, where a youth representative from each organization returned balls from a tennis simulator set to mimic pro shots. The representative who performed best was granted a donation for their local group.