Sir Alex Ferguson, Theo Walcott, Thierry Henry, Joe Calzaghe and Shane Warne are just some of the sporting heroes whose artwork will be on display at the Catto Gallery in Hampstead from September 25 to 27 in aid of national charity, the Willow Foundation.
The Willow Foundation, set up by Arsenal legend Bob Wilson and his wife Megs, is a national charity that provides special, morale-boosting and memorable days for seriously ill 16 to 40 year olds.
The Art of Sport is an exhibition of unique artworks created by famous sportsmen using the tricks of their trade to apply paint to canvas with exceptional results. These stunning pieces of conceptual art have been created by stars from the worlds of football, snooker, golf, cricket, motor cycling and boxing and each has been signed by its creator.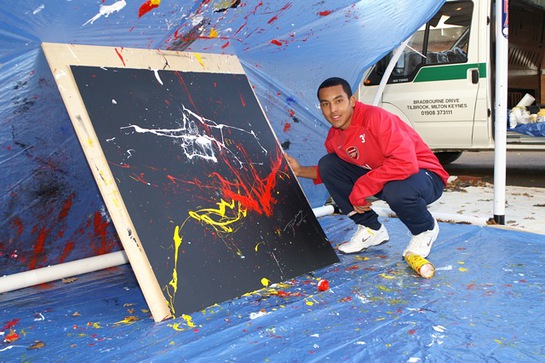 Included in the exhibition is artwork by Theo Walcott, Cesc Fabregas, Robin Van Persie, Theirry Henry, Dennis Bergkamp, Jens Lehmann, Ricky Hatton and Ronnie O'Sullivan, amongst others. Originals and prints will be for sale with all proceeds to the Willow Foundation. The artwork can also be viewed online at www.willowfoundation.org.uk/artofsport
Charity co-founder, Bob Wilson, said: "The generous support and creativity of this great mix of sports personalities has produced a superb range of artwork which ultimately helps the Willow Foundation to make a difference to the lives of people living with life threatening conditions at a time when they need it most. Sports fans will love Impact Art so come along to the exhibition or take a look at the artwork online."
Willow Foundation Ambassador and Arsenal striker, Theo Walcott, said: "I am proud to be an ambassador for The Willow Foundation. Having seen the work they do first hand in helping seriously ill young adults I was delighted to get involved with this art exhibition."
To date the Willow Foundation has provided more than 5,000 special days for people living with cancer, cystic fibrosis, motor neurone disease and muscular dystrophy, amongst other conditions. In 2009, the charity's 10th anniversary year, Willow will provide almost 1,500 special days compared to just 17 in its first year.
For further information visit www.willowfoundation.org.uk,