The UK's largest feline welfare charity, Cats Protection, has been overwhelmed by the success of this year's Celebrity Paws auction, which has raised a staggering £2,473.58 for unwanted cats and kittens in the UK.
This year's most popular 'paw prints' were from singer Alison Goldfrapp, which was sold for £502.00, musical legend Phil Collins, which was sold for £430.00 and Top Gear presenter James May, which was sold for £271.00.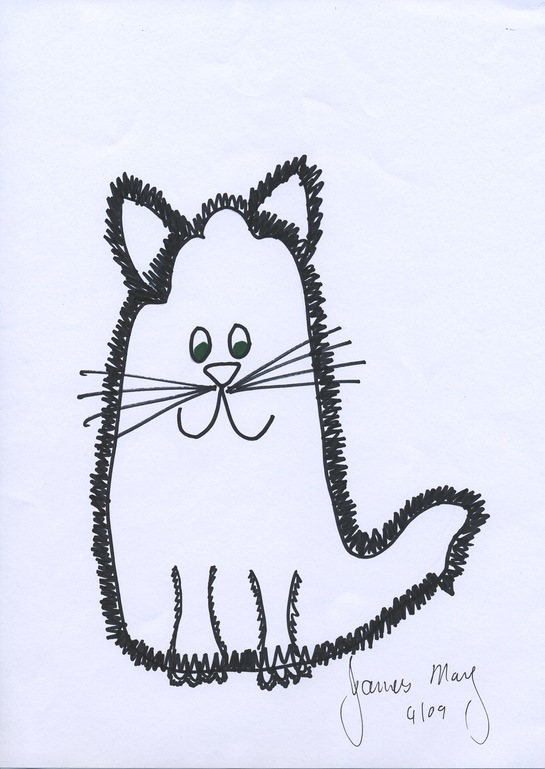 'Paw prints' from Peckham pals Sir David Jason, Nicholas Lyndhurst, John Challis and Roger Lloyd Pack, who played Del Boy, Rodney, Boycie and Trigger in the popular sitcom Only Fools and Horses managed to raise £262.00 towards the auction.
When asked why he had chosen to support the charity, actor John Challis said: "I love cats and I have done a lot of work for charities with a similar cause. We actually inherited some feral cats on the farm and we decided to take care of them. They were breeding at the time, so we took them to the vets and found homes for their kittens. We weren't really cat people before that, but I think that cats have a way of finding you. We have one male cat and one female- they both follow us around all of the time".
Now in its third year, Cats Protection's Celebrity Paws auction raises much needed funds for the charity, which helps over 193,000 cats and kittens every year. It is a simple and easy way for celebrities to show their support of the work that the charity does. Celebrities were asked to draw around their hand, decorate it in their own unique way, sign it and send it back to Cats Protection.
The money raised from this year's auction will go towards building a state-of-the-art homing centre in Ferndown, Bournemouth. The Homing Centre will work alongside the charity's volunteer-run branches in the area. With 24 homing pens and an on-site retail area for essentials, Ferndown will only offer cats which are ready to go to a new home – cutting out lengthy waiting times for cat owners to take their new pet home. It is hoped the Homing Centre will be open for early 2010.
Kate Bunting, the charity's PR Manager, said: "We have had an amazing response to Celebrity Paws this year and we are very grateful to our celebrity supporters for contributing their own special works of art. The lucky winners of the 'paws' have got a truly one-of-a-kind item, which I hope they will treasure. The money raised from the auction will certainly support the ongoing work that we do and the exciting plans that we have in the pipeline for 2010."
Other celebrities who took part in the auction included Chrissie Hynde and Tony Robinson.
For more information on the Ferndown Homing Centre Appeal, click here.