By Richard Barker on
Look To The Stars' UK Correspondent recently attended a very special charity event in London, and filed this report.
I was invited to join 'Three Kings' of the modern era in The Prostate Cancer Charity carol concert. TV presenter, Clive Anderson, hosted the service, and Public Relations guru Max Clifford and BBC One's Eastenders star Rudolph Walker both give holiday readings.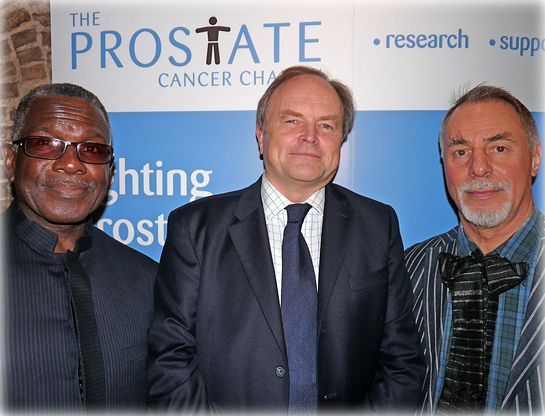 The famous faces joined forces at St. Johns, Smith Square, to sing along with a range of renowned acts, including the runners up of BBC One's 'Last Choir Standing' – the Bath Male Choir and acclaimed international group, Metro Voices.
The Prostate Cancer Charity's Major Events Manager, Carol Endericks, said: "We are all very excited about our first Christmas carol concert, 'Sing for Noel (and all other men).' It promises to be a fun filled evening and will really get everyone geared up for Christmas. We are delighted to be joined by such well respected and loved personalities, who will each add their own personal flair to the concert. We have an amazing set of performers who will sing their hearts out, guaranteeing that the concert will be anything but a 'silent night.'
"Prostate cancer affects 35,000 men and their families each year in the UK and this Christmas we are asking people to spare them a thought but to also join us in spreading the festive cheer. Christmas in London is a magical time and we are hoping that our concert will make it all the more special. We would love a big crowd of carol singers to come along and join us and so we are asking people to get their tickets now to avoid disappointment."
Rudolph Walker read 'Advent 1955' by John Betjeman. Rudolph said: "I am delighted to be a part of The Prostate Cancer Charity's Christmas celebrations. The festive season is a special time of year and has the power to bring people together. My reading emphasises what Christmas is really about – spending time with your family and loved ones. It is not about how many cards and presents you receive, it is about the warmth that you share with those around you. I am looking forward to the carol concert and I hope to see as many people there as possible."
Rudolph was joined by fellow long term supporters of the Charity, Max Clifford and Clive Anderson, who have both campaigned strongly over the years to raise awareness of prostate cancer.
Prostate cancer is the most common cancer diagnosed in men in the UK. Every year in the UK 35,000 men are diagnosed with prostate cancer. One man dies every hour of prostate cancer in the UK.
African Caribbean men are three times more likely to develop prostate cancer than white men.
The Prostate Cancer Charity is striving for a world where lives are no longer limited by prostate cancer. The Charity is fighting prostate cancer on every front – through research, support, information and campaigning.
If you have any queries about prostate cancer, call The Prostate Cancer Charity's confidential Helpline 0800 074 8383 which is staffed by specialist nurses and open from 10am to 4pm Monday to Friday and Wednesdays from 7 – 9pm or visit www.prostate-cancer.org.uk.