Social networking may be the fastest, most effective way to spread ideas and connect with like-minded folks, but sometimes even Twitter Co-founder Biz Stone needs to unplug and head outside for some good old-fashioned, face-to-face socializing in the fresh country air.
This May 1 and 2, the social media mogul — who went vegan after spending time with rescued farm animals at the New York Shelter of Farm Sanctuary, the nation's leading farm animal protection organization — will do just that when he travels to the organization's sanctuary in Orland, California to join an impressive roster of speakers at their annual California Country Hoe Down.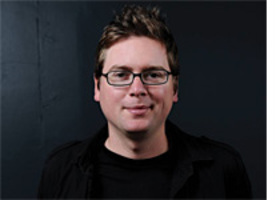 This festive, two-day conference for people of all ages and backgrounds offers attendees the chance to learn about current farm animal protection issues and campaigns and acquire the tools they need to get active for animals in their community and help build a more compassionate world. Inspiring presentations from some of the animal protection movement's most celebrated names, including Farm Sanctuary President and Co-Founder Gene Baur and Jonathan Balcombe, Ph.D., author of Pleasurable Kingdom and Second Nature: The Inner Lives of Animals, are interspersed with mouth-watering vegan food, hayrides, star gazing, a rousing barn dance, complete with live music and a contra dance caller and, of course, ample time to stroll the barnyard and get to know the hundreds of cows, pigs, sheep, goats, chickens and turkeys who call the sanctuary home.
"Growing consumer awareness and outrage over the environmental devastation, health problems and rampant animal cruelty associated with industrial animal agriculture has sparked a nationwide food movement that is changing the way people think about animals and food," said Baur. "This year's California Country Hoe Down comes at a pivotal time. Real change is afoot and it's happening faster than ever before."
To learn more about Farm Sanctuary's California Country Hoe Down and reserve your space, click here.