Chris Hope, NFL All-Pro Safety, has joined Soles4Souls Inc., to help hand out shoes to thousands of people who were affected by the recent disaster in Nashville and the Middle Tennessee area.
The charity, during a massive 2-day distribution at the Tennessee State Fairgrounds, handed out 30,000 of the 85,000 pairs of new shoes that they have committed to the area. Chris was joined by Country artists Sarah Darling, Tiffany Johnson and the Carter Twins.
On Friday, May 14 and Saturday, May 15, 2010, Soles4Souls will continue their relief efforts by setting up a "drive-thru" distribution at its new World Headquarters location. The charity's address is 319 Martingale Drive, Old Hickory TN 37138 (behind the McDonalds on Old Hickory Boulevard in Old Hickory). On these days, the staff and volunteers from the charity will be handing out supplies, including shoes, toys and other baby products to people in need as they drive through the parking lot.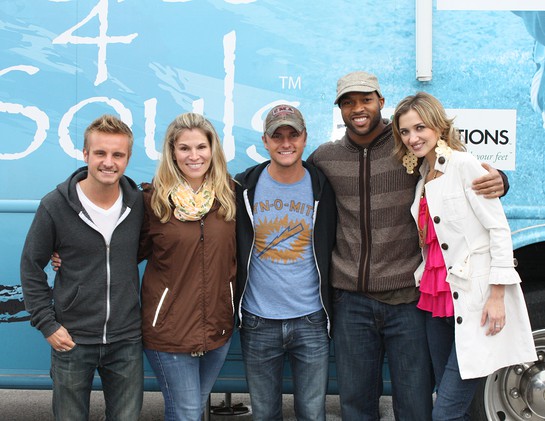 Soles4Souls is a Nashville-based charity that collects shoes from warehouses of footwear companies and the closets of people like you. They distribute these shoes, free of charge, to people in need around the world. Since 2005, Soles4Souls has given away over 8.5 million pairs of new and gently worn shoes (currently distributing one pair every 9 seconds). The shoes have been distributed in 125 countries, including Haiti, Kenya, Nepal and the United States.
To learn more about Soles4Souls, or to volunteer with the charity, visit www.giveshoes.org or call 615-391-5723.