By Regina Walton on
On Tuesday, June 21st, WhyHunger held its annual Why-Chapin Awards Dinner.
The event took place in NYC at Gotham Hall, steps from Times Square. The event commemorated WhyHunger's 35th anniversary and paid tribute to its 2010 award honorees, and the annual dinner was hosted by three-time Grammy Award winner Tom Chapin.
The honorees included legendary folk singer Pete Seeger, who received the WhyHunger-Chapin Award. Nick Ashford and Valerie Simpson were honored with the ASCAP-Harry Chapin Humanitarian Award. In addition, the Chicago-based non-profit, Growing Home, also received the WhyHunger – Chapin Award.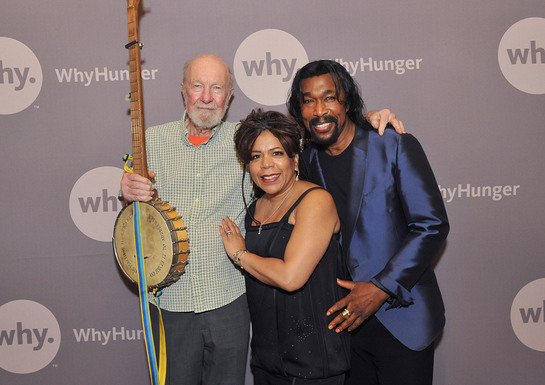 The awards were given to recognize their inspiring work on and dedication to issues of hunger and poverty on a local, national and global level. The evening also had a silent auction with over 50 items to raise funds to benefit WhyHunger's many programs.
The event featured performances by both Pete Seeger and Ashford & Simpson. With all the musical talent in the room there were many performances. Tom Chapin, Martha Redbone, John McEuen, Aaron Whitby, Jen Chapin, Jake Holmes, and Kim & Reggie Harris. Pete Seeger inspired the house by leading a sing-along of "Over the Rainbow" and changed the ending chorus to "why can't you and I?" to symbolize his desire to see people help each other more. Ashford & Simpson performed a melody of some of their famous songs, including "Reach Out and Touch (Somebody's Hand)" and "Ain't No Mountain High Enough."
The legendary singer Roberta Flack attended and said a few words to honor Nick Ashford and Valerie Simpson.
WhyHunger is dedicated to fighting the root causes of hunger and poverty by supporting grassroots organizations that create self-reliance, economic justice and equal access to nutritious and affordable food.
Photos: Diane Bondareff