On October 24, New York City and NBA champion and wellness guru John Salley hosted the 2010 Walk for Farm Animals, an annual event taking place in more than 75 cities across the United States and Canada to celebrate and promote compassion for farm animals and raise vital funds to support the lifesaving rescue, education and advocacy work of Farm Sanctuary, the nation's leading farm animal protection organization.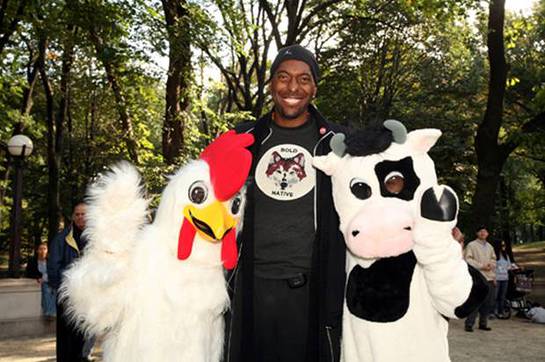 Salley was joined by this year's national Walk spokesperson – celebrity trainer and television personality Bob Harper from NBC's hit show "The Biggest Loser."
"Farm animals are smart, friendly animals who experience fear, pain and suffering just like cats, dogs and all other living beings do," said Salley. "The cruel conditions endured by billions of farm animals annually on factory farms all across North America is an issue that affects all of us. As a proud Brooklyn native who believes all animals should be treated with compassion, I am honored to be back in my hometown leading the 2010 New York City Walk for Farm Animals."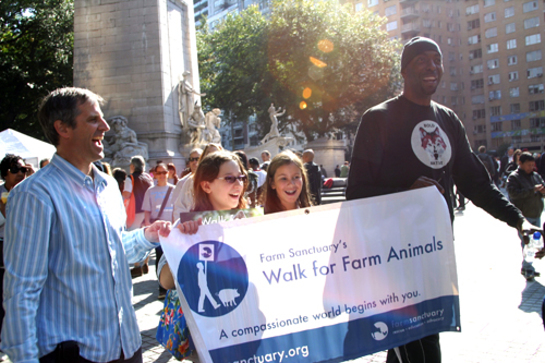 Last year's New York City Walk was the biggest ever with almost 800 registered participants. This year's Walk in scenic Central Park featured inspiring speakers, including Farm Sanctuary's President and Co-Founder Gene Baur, a bagged vegan lunch, raffle and special musical performance by singer/songwriter Jenn London.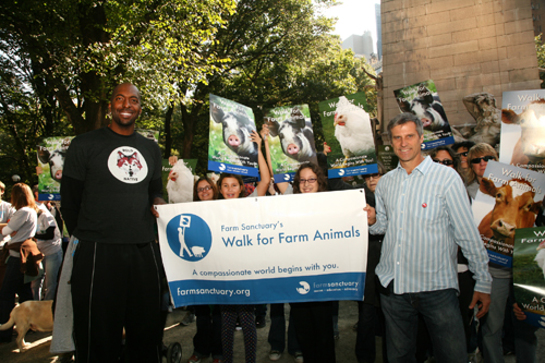 "Animals raised for food in the U.S. spend their entire lives in filth and darkness, kept in such severe confinement they cannot turn around, lie down or extend their limbs," said Gene Baur, president and co-founder of Farm Sanctuary. "No one likes cruelty and when people learn about the abusive conditions inside factory farms, they are appalled and a growing number are getting active to raise awareness about these intolerable cruelties and put an end to the unnecessary suffering. For nearly 25 years, Farm Sanctuary's Walk for Farm Animals has provided a forum for people from all walks of life to spread a powerful message of compassion for farm animals in their own cities and hometowns. The exponential growth of the Walks is a very positive sign. This year, we are thrilled to have the support of John Salley as our New York City grand marshal and Bob Harper as our national spokesperson for the 2010 Walk for Farm Animals. Both are as passionate about animal protection as they are about health and fitness, and with their support, the biggest winners this year will be farm animals."
Photos: Photos courtesy Carl Santoro (www.santorophotography.com).