KISS lead singer Paul Stanley who recently lent his support to The NOH8 Campaign, a photographic silent protest created by celebrity photographer Adam Bouska and partner Jeff Parshley in direct response to the passage of Proposition 8.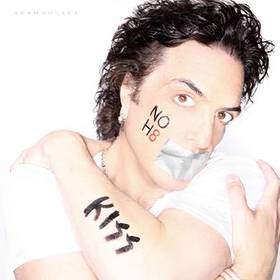 Photos feature subjects with duct tape over their mouths, symbolizing their voices being silenced by Prop 8 and similar legislation around the world, with "NOH8" painted on one cheek in protest.
The campaign has garnered national prominence for its efforts to achieve equality for all and curtail bullying, teen suicide and discrimination in all its forms.
According to co-founder Jeff Parshley, NOH8 was thrilled about "Paul Stanley lending his iconic face to the campaign."