By Tim Saunders on
British actor Geoffrey Palmer helped re-open a charity shop in Princes Risborough – a small town in England's Buckinghamshire – this week.
The shop raises money for the local branch of Iain Rennie Hospice at Home, a charity that offers anyone who has a life-limiting illness the choice to receive the care and support that they need in the comfort and security of their own home. Palmer – who has appeared in classic British TV shows such as The Fall And Rise of Reginald Perrin, Doctor Who, Fawlty Towers, The Goodies and As Time Goes By – is a patron for the charity.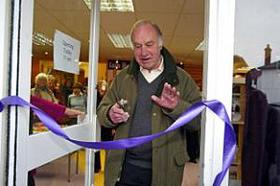 The charity's shops help raise 20% of the daily running costs for the organization.
"Our 11 charity shops are a visible presence for IRHH in our local community," says Lesley Blencowe , head of IRHH's retail & trading. "We're very fortunate to enjoy excellent support from local residents, but we're conscious that many customers aren't aware of the full service that we offer as a charity. The refurbishment means the new and improved Princes Risborough shop will provide an enhanced shopping experience for our customers as well as spreading the IRHH message. We want all our customers to be aware that their support helps us give patients in the Chilterns with a life-limiting illness the chance to be cared for at home."
Find out more about the charity here.