British TV presenter Gail Porter and Olympic gold medalist Duncan Goodhew MBE have given celebrity power to the launch of a great charity initiative – Swimathon 2011.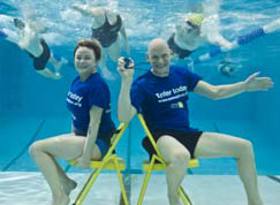 The pair are encouraging people to sign up for the challenge which will raise money for Marie Curie Cancer Care and The Swimathon Foundation. Swimathon 2011 is set to hit a record 580 pools across the UK between April 8-10, when 22,000 swimmers will raise more than £2 million for Marie Curie Cancer Care and the Swimathon Foundation.
"Launching Swimathon this year gives me huge pleasure," said Gail. "The challenge is ideal motivation for everyone to pull on their swimsuits, get in the pool and enjoy a much-needed New Year health boost. I find swimming a great way to keep fit, especially as it's an activity I enjoy with my child. Going down to your local pool and getting them used to being in the water is just the start of the fun. Once my daughter was up and paddling, there was no stopping us!
"What's more – the money raised will help Marie Curie Cancer Care to provide free nursing care to terminally ill people. I know what a difference this care can make as both my mum and my grandmother died from cancer and received care at home from a Marie Curie Nurse. Caring for a loved one at the end of their life is never going to be an easy time for families but it was made much more bearable for us by the skill and care of these amazing nurses."
Swimathon President Duncan Goodhew added: "We are approaching a quarter of a century of Swimathons and I'm delighted to report that last year's event enjoyed an astonishing 38 per cent rise in swimmers. And what's really exciting is that around 2,500 of those who dived in told us that they only started swimming again because they entered the event. From these grass roots right up to our overflowing international trophy cabinet, it seems that Britain's love affair with swimming really is back to stay."
The majority of funds raised by Swimathon 2011 will help support Marie Curie Nurses who provide free nursing care to people with terminal cancer and other terminal illnesses, in the place of their choice. The charity expects to care for more than 31,000 terminally ill patients in the community and in its hospices this year.
Now in its 24th year, over half a million swimmers have taken part in Swimathon – swimming the equivalent of 24 times around the world and raising more than £34 million for charity.
Early birds (before January 31, 2011) will not only secure their place in what is a sell-out event at many pools and have longer to train for their 1.5k, 2.5k or 5k challenges – but will also enjoy half price registration fees.
Individual and team entries to Swimathon 2011 are open until April 7, 2011. Register at www.swimathon.org or call 0845 36 700 36.