A pride of celebrities have pledged their support to a record breaking lion rescue and are urging people to give to the appeal.
The initiative is called "Operation Lion Ark", and is the biggest-ever animal rescue of its kind. Now a host of celebrities are urging people to get behind it and send a donation to help "save the lions". This month, Animal Defenders International (ADI) will airlift 25 rescued lions from Bolivia to the USA but are urgently calling for support for the operation.
Brian Blessed, Twiggy, Julia Mckenzie and Benjamin Zephaniah – along with Meg Mathews, Wendy Turner Webster and Prunella Scales – are among the first celebrities to get behind the Appeal from London based Animal Defenders International (ADI), to help get these magnificent animals to safety. The Appeal also has backing in Hollywood from Jorja Fox, CSI's Sarah Sidle and TV presenter Bob Barker, whose substantial support has made the project possible so far.
The incredible rescue – which has seen ADI rescue every circus animal in Bolivia – began several years ago with an ADI undercover investigation that exposed horrific abuse in circuses across South America. This led to a nationwide ban in Bolivia and similar measures are under consideration in Brazil and Peru.
In November and December, a year after the ban was passed, ADI and the Bolivian authorities swooped on circuses all over the country removing animals – lions, monkeys, horses and other animals. ADI now has 24 lions in its care in Santa Cruz and will collect a final lion later this week. ADI plans to move all lions in one massive airlift to The Wild Animal Sanctuary in Colorado.
Jan Creamer, ADI Chief Executive, who is in Bolivia this week co-ordinating Operation Lion Ark said: "This is a huge undertaking, we have travelled thousands of miles all over Bolivia seizing animals and we now have 25 lions in our care in facilities we have had to build there and then as animals were removed from circuses. We are funding a massive construction project with 80 acres for the animals to roam in with The Wild Animal Sanctuary in Colorado. We have a wonderful home ready for these animals, we just need to get them there – that's where we need people's help, to get the lion ark in the air.
"This is the first time in history that an animal protection group and a government have worked so closely and systematically to eradicate animal suffering – when the Lion Ark takes off a chapter of animal suffering will close. So as well as being wonderful for the animals involved, this sets an incredibly important precedent."
Brian Blessed, the revered actor, author, and ADI supporter said: "I have followed closely ADI's rescue effort in South America, having personally met a wonderful baboon called Tilin that they rescued from there last year who is now safe and extremely well in the UK. Operation Lion Ark is absolutely sensational, a staggering achievement, which will reverberate around the World. ADI is a wonderful, miraculous, organisation, so please lend your support to their campaign and visit their website to find out how."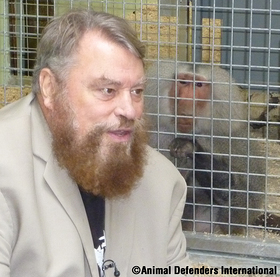 CSI actress and ADI Ambassador, Jorja Fox said: "I hope you'll join me in supporting Operation Lion Ark. These majestic animals have been through so much and now through the compelling and daring acts of ADI, they are finally going to have a life of ease, dignity, and grace. We'd love for you to be a part of this amazing and unprecedented epic event."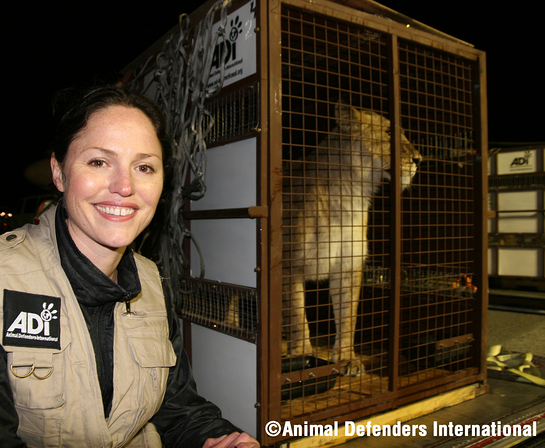 Twiggy Lawson, model, actress, singer, author and ADI supporter said: "I am very happy to lend my support to ADI's lion rescue and campaign and applaud them for rolling their sleeves up, getting out to Bolivia and bringing these magnificent creatures to safety."
Julia Mckenzie, star of Miss Marple said: "I am very happy to lend my support to Operation Lion Ark and am looking forward to mid-february when they find final sanctuary in the US."
Former host of the Price is Right, ADI Ambassador, Bob Barker said: "I am pleased and proud to say that a couple of contributions of mine helped ADI in their history making accomplishments in Bolivia. I am so impressed with ADI that I am going to make another investment in their mind-boggling work, and I invite you, in fact, I urge you to 'man-up' and join me, too. Believe me, you'll get your money's worth."
Renowned writer and poet Benjamin Zephaniah said: "I am fully behind this Operation Lion Ark. As a real animal lover I don't think animals are for our entertainment and it is our duty to respect and protect them."
Meg Mathews, celebrity designer said: "ADI's record breaking Operation Lion Ark needs help to give these lions the future that they so richly deserve after the life they have led. Please go to the website and make a donation to help secure their future and assist ADI with their ongoing rescue work."
Wendy Turner Webster, author and television presenter said: 'When ADI informed me of the lions plight, and the suffering they had endured, I simply had to become involved in this amazing campaign and do all I could to help get these lions to their new life.'
Other celebrity supporters include the actresses Prunella Scales, Liz Fraser, Sheila Steafel and Carol Royle and actor John Challis.
Jan Creamer, ADI's Chief Executive said: "These animals have had a shocking life so far. A few weeks ago, when we were removing them from the circuses the conditions the animals were kept in were some of the most deplorable I have ever seen in my life. Our holding facilities in Santa Cruz are basic but with veterinary care, proper food, and a bit of TLC these animals are transforming.
"But their new lives will not really begin until we get them to safety and that is the real challenge. These animals who for years knew only a small, cramped cage will have acres of freedom to roam, run and play."
To learn more about this amazing story of triumph over adversity and to make a donation to help with the rescue effort, visit www.savethelionsappeal.com, or call 020 7630 3340.