The official Climate Week (21-27 March) t-shirt has been unveiled featuring an exclusive, limited edition design by the 'patron saints of print', Eley Kishimoto, in aid of the Environmental Justice Foundation.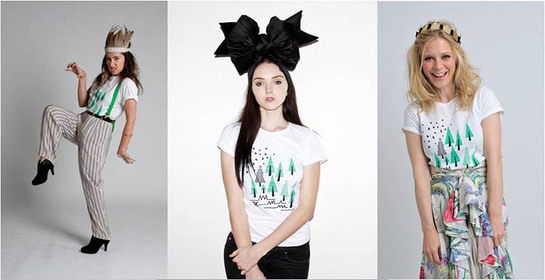 A host of talent has stepped up to front the on-trend geometric print, including EJF Patron Emilia Fox, Lily Cole, KT Tunstall, Jade Parfitt, Gillian Anderson, Eliza Doolittle, James Blunt, Jemma Kidd and many others, making it the fashion world's t-shirt of choice.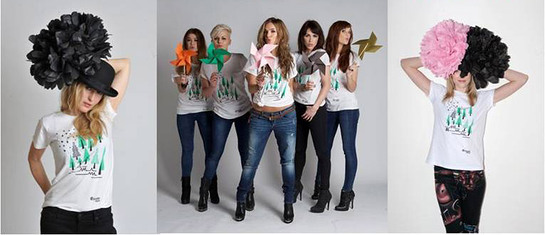 Organic, ethically made, and manufactured by wind and solar power, the low carbon t-shirts will be available for men and women in time for Climate Week for only £10. Available from Tesco in store and online at www.tesco.com/clothing and EJF's web store.
Climate Week's Phil Drew said: "Low-carbon and super-cool, the t-shirt captures the spirit of Climate Week by showing how we can all be part of the solution to climate change. The t-shirt is organic, ethically made, and carries the Carbon Reduction Label certified by the Carbon Trust. It represents the future of fashion: an item that's as green as its message and doesn't cost the earth, in all senses of the word."
Environmental Justice Foundation Executive Director Steve Trent said: "The supply chain demonstrates the highest possible standards in an industry that is often criticised for falling short of the mark. The carbon footprint of the t-shirt's manufacture is on average an incredible 90% smaller than that of a comparable product made using non-renewable energy."
Eley Kishimoto said: "Our t-shirt design incorporates the 'tree of life', a concept that exists in many cultures across the world. In itself, this represents nature and reminds us to look towards a positive future. We worked with a play on an age-old patchwork motif, symbolising the care and attention that our planet needs and translating the idea that all life on earth is connected, and we should work together to tender our environment."
Shoppers can do their bit to reduce the carbon footprint of the t-shirts even further, by washing it at a low temperature and hanging it up to dry.
The Climate Week t-shirts will be available in store and online at www.tesco.com/clothing in time for Climate Week for only £10.
EJF is also proud to announce that some top illustrators and cartoonists have created fun limited edition ethical aprons to raise money for charity.
Traditionally known for being the heart of the home, the kitchen is increasingly becoming a key symbol for campaigners concerned about sustainable seafood and organic farming.
EJF has fully embraced this in its latest project to protect people and the planet. As part of its 10th Anniversary celebration, EJF is collaborating with well known witty cartoonists and brilliant illustrators, including Edward Monkton, Robert Thompson, Steven Appleby & Ella Doran to create a limited edition collection of
aprons.
The charity has created an apron for everybody; Giles Andre, aka Edward Monkton, creator of the Pig of Happiness and Purple Ronnie has styled his apron with the same playful philosophy that can be seen in his other works. While Robert Thompson's classic cartoons will appeal to foodies and animal lovers alike.
The beautiful unisex aprons are made to the highest Earth Positive standards, using only the finest quality organic cotton and manufactured with the use of wind and solar energy. In addition, the aprons carry certifications from the Soil Association, Global Organic Textile Standard, FairWear Foundation and a carbon reduction Earth Positive label.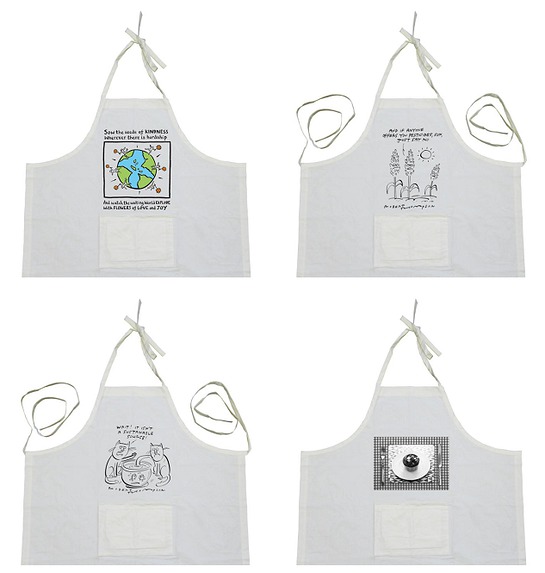 Available exclusively at Whole Foods Market from March 5, £5 from the sale of each apron will directly help EJF and their grassroots partners to tackle the root cause of environmental destruction and promote peaceful solutions for the future.
Ines Hermida, Whole Body Coordinator for Whole Foods Market said "We are delighted to be supporting EJF, this campaign is perfectly in tune with our core values and we are sure our customers will enjoy the wonderful apron designs"
Tommi Miers, star of Channel 4 series Wild Gourmets and former Masterchef winner, has also got behind the campaign, transforming one of her favourite recipes into an organic and fair trade masterpiece. The delicious recipe will be exclusively tucked into the pockets of each apron.
Larissa Clark at EJF said "With such a fun range of prints from our supporting designers we hope there's an apron to suit every cook!"