By Jennifer Butler on
Blue is the new black: haute couture designer and colon cancer survivor Carmen Marc Valvo has joined forces with the Colon Cancer Alliance to auction a one-of-a-kind gown.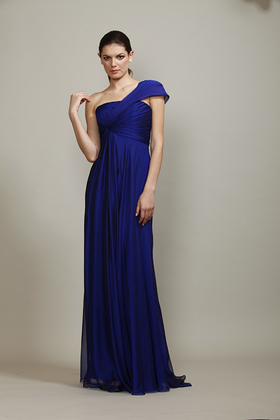 The fight against colon cancer has gone haute couture! Famed fashion designer and colon cancer survivor Carmen Marc Valvo is supporting the Colon Cancer Alliance (CCA) and National Colorectal Cancer Awareness Month by auctioning off a specially designed, one-of-a-kind evening gown from his Black Label Collection.
The online auction, benefiting the Colon Cancer Alliance's awareness programs, takes place now through March 15 at BiddingForGood.com. The winner of this exclusive gown may request it be made in any size ranging from 2 to 18.
"I love this iridescent blue chiffon gown, but I will love it more knowing that the proceeds are going to the Colon Cancer Alliance," said Valvo. "Blue is the new black!"
The gown, from Valvo's spring 2011 collection, was seen on the runway at a special fashion show hosted by Neiman Marcus in McLean, VA last week in celebration of Colorectal Cancer Awareness Month. Valvo attended the show and signed copies of his new book, Dressed to Perfection: The Art of Dressing for Your Red Carpet Moments. Valvo is donating proceeds from sales of his book to colon cancer organizations.
In addition to the online auction, Valvo has also designed a limited edition of 150 t-shirts for the CCA that will be on sale throughout the month of March. The shirt can be viewed and purchased on the CCA website.
"Our deepest gratitude goes to Carmen Marc Valvo for all the work he's doing to help us raise awareness of colon cancer, a highly preventable disease," said Andrew Spiegel, chief executive officer of the CCA.
The CCA is the oldest and largest national patient advocacy organization dedicated to ending the suffering caused by colorectal cancer. In order to increase rates of screening and survivorship, the CCA provides patient support, public education, supports research and conducts advocacy work across America.
For more information on the partnership between Carmen Marc Valvo and the CCA, visit www.ccalliance.org/cmv.