Clarisonic awarded national charitable partner Look Good…Feel Better a $250,000 donation in the name of acclaimed actor Mila Kunis, bringing fundraising efforts by the leading innovator in sonic skin care on behalf of Look Good…Feel Better to a total of $1.1 million.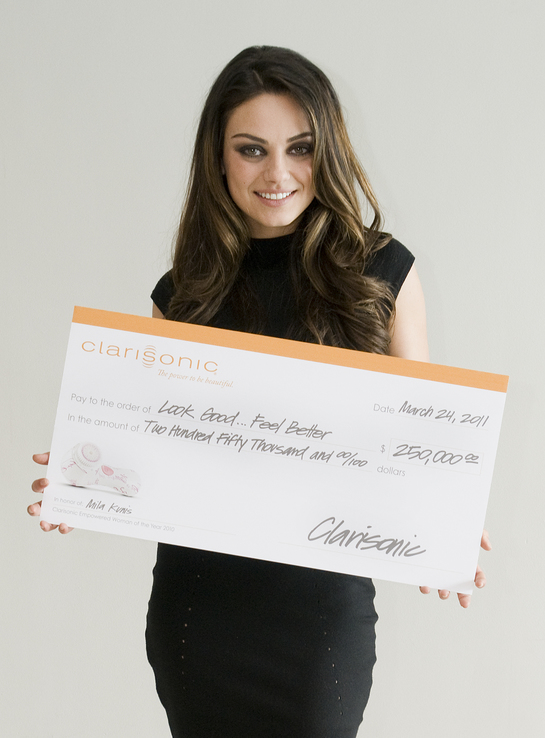 Kunis, honored by Clarisonic in 2010 as its Empowered Woman of the Year after her breakout performance in Black Swan, took time from her busy filming schedule to meet in Los Angeles, CA with campaign representatives and make the check presentation.
"I am happy to help support such a worthwhile cause and am honored to be Clarisonic's Empowered Woman," said Mila Kunis. "Almost all families are affected at some time by cancer—even mine. It is inspiring to know there is a free resource like Look Good…Feel Better out there to help make recovery just a little easier."
Look Good…Feel Better is a free, non-medical, brand-neutral national public service program created to help individuals with cancer look good, improve their self-esteem, and thereby manage their treatment and recovery with greater confidence.
"Clarisonic is thrilled to have Mila's support and participation," said Louis Yaseen, director, cause marketing, Clarisonic. "The inner strength and courage she has demonstrated in preparing for and executing her film roles is a great example of personal empowerment. We are also honored to partner with Look Good…Feel Better. The program's mission to help empower women undergoing cancer treatment to look their best and regain self-confidence closely parallels Clarisonic's mission to empower women to take beauty into their own hands."
Look Good…Feel Better is a collaboration of the Personal Care Products Council Foundation, a charitable organization established by the Personal Care Products Council, the leading national trade association representing the global cosmetic and personal care products industry; the American Cancer Society, the nation's largest voluntary health organization dedicated to saving lives from cancer; and the Professional Beauty Association│National Cosmetology Association, a national organization of more than 25,000 cosmetologists, wig experts, aestheticians, makeup artists and nail technicians.
Clarisonic's gift is part of an ongoing commitment to donate a portion of the proceeds from the sale of specially designed products to Look Good…Feel Better, a nationwide, public service program that helps women with cancer deal with the appearance concerns of treatment, providing support, hope, and practical coping skills. Specifically, the company donates $4 from every Clarisonic PINK Classic and Clarisonic PINK Plus Skin Cleansing System purchased and $3 from every Clarisonic PINK Mia Skin Cleansing System sold. The company also donates $15 from the sale of every limited edition Clarisonic Hope Mia Skin Cleansing System sold, while supplies last.
"Clarisonic's generous donations are enabling us to undertake educational and awareness building programs that will greatly enhance our ability to serve more women across the country. We can now initiate innovative projects that we previously could only dream of doing," said Louanne Roark, executive director of the Personal Care Products Council Foundation and Look Good…Feel Better.
Find out more about Look Good…Feel Better here.