It's not every day you see an international supermodel squaring up to a Hollywood actor. But as the countdown to World Environment Day (WED) on June 5th begins, Gisele Bundchen and Don Cheadle are taking off the gloves to do battle.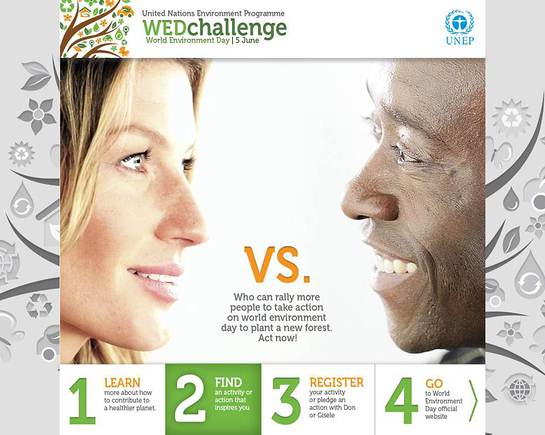 The United Nations Environment Programme (UNEP) Goodwill Ambassadors are facing off for the ultimate WED Challenge – and they're hungry for votes.
World Environment Day is all about positive action for the environment and underscores how the power of our individual actions, when combined, is exponential. In the run-up WED, individuals, groups, families and schools – even entire communities – can post details of their planned green events online.
And for the Goodwill Ambassadors, this is where the battle lines get drawn. When registering a WED activity, you'll be asked to pledge your activity to either Don or Gisele.
Full of goodwill Gisele has pledged to plant a tree for every activity registered in her name. Full of confidence, Don Cheadle has pledged to plant two.
But when the votes are calculated on June 5th, the result will be a new forest planted by the winner leaving the perfect Legacy from the global WED community.
So would you rather see a fashionable forest by Gisele or some Tinseltown trees by Don? The choice is yours!
Whether it's switching from plastic bags to cloth bags, car-pooling with colleagues or organizing a tree-planting day, WED activities can be big, small, local, international, noisy, quiet….just as long as they're green.
Visit www.unep.org/wed , browse the A-Z of WED ideas, find your inspiration and tell the world what you're doing. Then most importantly, decide who will get your vote…
To view or download the wedchallenge videos, click here.