As "The Oprah Winfrey Show" nears the end of its 25th and final season, the Friday, May 20 episode of the program featured an hour titled "Oprah's All-Time Favorite Guest Revealed!" updating viewers on the lives of some of the program's most memorable guests. During the show, Oprah also revealed that her favorite guest of all-time is Tererai Trent, a woman from the village of Zvipani in Zimbabwe.
Tererai touched the lives of millions when she first appeared on the program in 2009, sharing her passion for an education, and a lifelong dream to go to school. Never giving up, Tererai made her way to the United States in 1998 with the help and support from many of the people in her village. Three years after arriving in the US, she received her Bachelors Degree in Agricultural Education, and today holds both a Masters and Doctorate degree. After achieving her dream of an education, Tererai never forgot about the people who helped her along the way, and felt that she had to give back to the community by somehow bringing better education options to the children in her village. Her new dream was to re-build the Matau Primary School in her home village in Zimbabwe.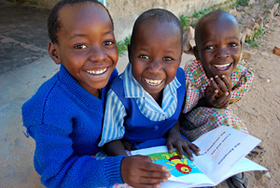 Girls share a book and smiles outside of their classroom at Matau Primary School in Zimbabwe. May 4, 2011. Photo Credit: Eileen Burke/Save the Children
Tererai Gets the Surprise of a Lifetime
Knowing that this was Tererai's life mission, Oprah wanted to give Tererai the surprise of a lifetime, and during her appearance on the program, it was announced that The Oprah Winfrey Foundation would donate a $1.5 million grant to Save the Children to re-build the Matau Primary School, fulfilling Tereri's dream of quality education for thousands of children in her village.
"What Oprah did is beyond my wildest expectations," said Tererai Trent. "She has given dignity to the girls, and women of this world, by saying education is important. She has given dignity to the teachers because they are now able to teach in an infrastructure where they are able to motivate the kids to perform better. She has given men a different way of thinking about girls going to school. When they see this, it will encourage everyone to see the importance of education. There was a fire in me that wanted to achieve it. I never dreamed that it would be at this level" she added.
Construction to Begin in Next Few Months
With the $1.5 million grant, Save the Children will begin construction on new classrooms, latrines, a preschool playground, a school administration building and teachers' houses in the next few months at Matau Primary School in Tererai's home village. Save the Children also will supply locally-made desks, chairs, books, toys and other learning materials for students and preschoolers.
Beyond infrastructure updates, the education project will improve learning and help youngsters get on track for school, reaching nearly 4,000 children at Matau Primary School and in neighboring communities. School figures from the Matau Primary School alone show a pressing need to enhance the quality of education. Last year, only 14% of 7th grade students at Matau Primary School passed the national completion exam, and five percent of first and second graders dropped out of school.
Save the Children will also spend three years training teachers, carrying out a community-wide literacy program, and helping instructors plan and prepare activities for preschoolers to help them succeed in school.
"Tererai is an inspiration to all of us. She is proof that you can come from a small village and still dream big because education has the power to transform lives," said Charles MacCormack, president and CEO of Save the Children. "Save the Children is grateful to Oprah for this contribution which will allow thousands of Zimbabwean children who aspire to be the next Tererai to learn, grow and succeed in school and life."
In addition to The Oprah Winfrey Foundation donation, people can help support the Matau Primary School Project by visiting SavetheChildren.org.