By Tim Saunders on
Take That's Mark Owen has donated 10 VIP tickets to the group's upcoming show at Wembley to a charity auction benefiting a special school for children with autism of which he is patron.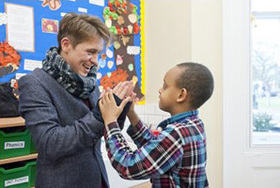 Mark Owen at Rainbow School
Proceeds from the auction will go to Rainbow School, a British school in South West London that was founded in 2000 by parents of children with autism. Rainbow was the third school of its kind to be opened in UK, the School offers a structured programme of intensive intervention based on the principles of Applied Behaviour Analysis (ABA) and Verbal Behaviour(VB).
Mark Owen visited the school the school last September: "Last summer I was approached by a friend and neighbour who has a son with autism and she introduced me to a friend of hers, whose son goes to Rainbow School.
"Rainbow School was, unbeknown to me, literally only yards away from my front door and so after taking a tour of the school, meeting the children and its founder Karen, I decided that I'd really like to help in whatever way possible to support these amazing people."
Bidding on the five sets of double tickets continues until June 3, with the Wembley concert taking place on July 5. Find out how to bid here.
"Mark has a wonderful rapport with the children – it's been such a huge morale boost for our staff and the parents," said Karen Sorab, CEO and founder of The Rainbow Charity. "Everyone's thrilled to have him involved and creating an awareness of what we do."
Source: YourLocalGuardian.co.uk