Fashion designer and TV personality, Whitney Port, has partnered with Buzznet.com, the web's largest social magazine written for youth by youth, and To Write Love on Her Arms (TWLOHA), a non-profit movement dedicated to helping people struggling with depression, addiction, self-injury and suicide, to announce the winner of the Vans Warped Tour t-shirt design contest.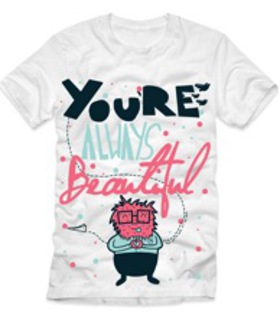 The talented winner, handpicked by Whitney Port and TWLOHA, is nineteen-year-old self-taught graphic designer hailing from California- Johnson "Johnsaurus" Le! Johnson will have his graphic printed on t-shirts that will be sold at the TWLOHA merch booth throughout The 2011 Vans Warped Tour. All proceeds from the sale of his winning shirt will be given as a charitable donation to TWLOHA and will help support their ongoing movement of presenting hope and finding help for people struggling with depression, addiction, self-injury and suicide.
As part of their challenge and in support of TWLOHA's mission, challenge participants needed to incorporate the theme of hope, stories, and the beauty that happens when the two come together in their submissions. Whitney Port and To Write Love on Her Arms evaluated every design and carefully selected the winning graphic based on its aesthetic appeal and embodiment of the challenge theme. When asked about his inspiration for the design, Johnson said, "I hear a lot of people talking about how they think they're ugly and its really depressing when they do that. So while listening to Arcade Fire "Wake Up," I came up with a quote and a sketch of a furry monster that sends out a positive message. When people read it, it will remind them that they're not ugly. They are always beautiful."
"I'm honored to be working with TWHOLA and Buzznet on this exciting contest that brings creativity, music and charity together around one of summer's most marquis events," said Whitney Port. "TWLOHA is an amazing organization and Buzznet and the Vans Warped Tour are perfect venues to connect millions of young people with an important cause."
"We're always looking for new ways to spread our movement across youth culture and Buzznet is a perfect partner because of their reach and relationships with millions of young people," said Jamie Tworkowski.
Find out more about the competition winner here.