Twilight star Kristen Stewart has donated a pair of autographed shoes to an organization fighting for the victims of sex trafficking.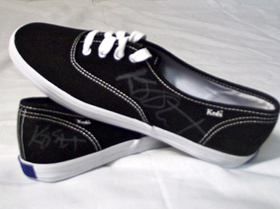 Shoe Revolt raises money by selling donated shoes online at www.shoerevolt.com. Their ultimate goal is to use that money to build 51 shelters (one for each state and one in D.C.) that will not only provide long-term housing for up to 24 months, but also a loving environment and access to mentoring and counseling services for survivors.
"Shoe Revolt is incredibly thankful for Kristen Stewart's donation of a pair of black Keds," stated Shoe Revolt's team in a statement."Her donations will be used to raise money for shelters and to create awareness about this issue in the teen community. We can eradicate the attack on our youth in the United States by spreading the word and getting teens educated.
"Trafficking affects thousands of teenagers each and every day and will never be stopped without education. Shoe Revolt will give teenagers the opportunity to understand sex trafficking, which will help keep them safe. Shoe Revolt is determined to create a teen revolt by reaching out and spreading the word about sex trafficking, one celebrity donated shoe at a time."
Find out more about Shoe Revolt here.