Wear pink, do good. Simple, right? Exactly, says sportlifestyle brand PUMA as it kicks off year two of its celebrity-studded charity initiative Project Pink.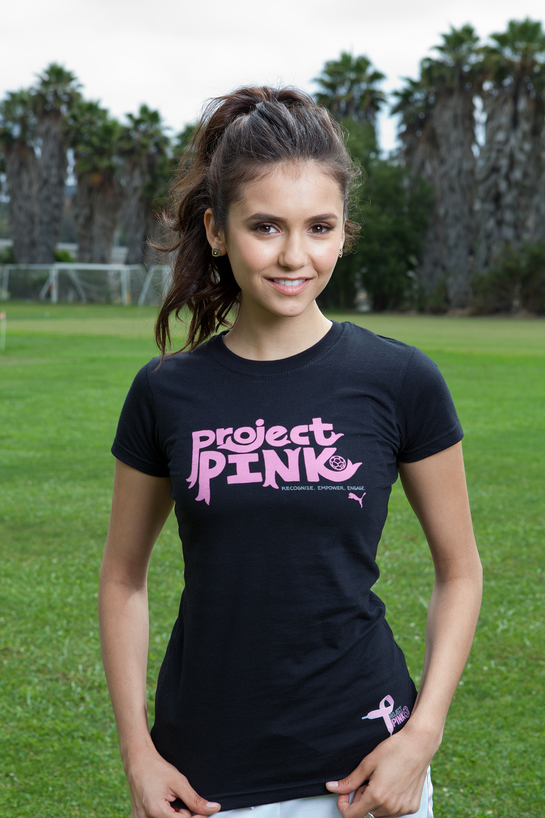 The project puts the fight against breast cancer in the hands of young soccer fans. Launched in 2010 in response to a group of female soccer athletes looking to support breast cancer awareness and research – and now cheered on by PUMA soccer athletes and Project Pink spokeswomen Amy Rodriguez, Leslie Osborne, Karina LeBlanc, Alex Scott, Tasha Kai and Marta, plus PUMA Women's Soccer Ambassador Julie Foudy – the program is entering its second season on the heels of an over $60,000 donation to the Breast Cancer Research and Education Fund at Magee-Womens Foundation in 2010. Also joining PUMA and its fight against breast cancer is Vampire Diaries actress Nina Dobrev, who, as an athlete in her youth, couldn't wait to work alongside PUMA and the athletes to support the cause.
"We're so proud of the remarkable athletes and young fans who supported Project Pink in 2010, rocking their pink gear at WPS games, nominating their favorite charities and rallying behind them to drum up votes, and, of course, tweeting up a storm," said Tara McRae, PUMA North America's vice president of marketing. "The donation we made at the end of the season is a true testament to their passion. We're excited to build upon that enthusiasm in year two alongside our roster of athletes, as well as with the incredible support of our two new teammates, Julie Foudy and Nina Dobrev."
PUMA's Project Pink expands in its second year, with more supporters, a more robust product offering, and more fundraising activities and events, all while staying true to the foundation of the program: putting the power and the energy of Project Pink in the hands of young soccer fans and enthusiasts who choose to make Project Pink their personal projects, thus choosing to inspire change and do good.
The Stars Align
PUMA is excited to announce that actress Nina Dobrev is lending her support, alongside some of the best women's soccer athletes in the world, to Project Pink 2011. As Project Pink's celebrity supporter, the Vampire Diaries star will appear in the program's Public Service Announcement, act as a media spokesperson, make appearances in support of the initiative, and engage with fans throughout the season via her Twitter handle. The PSA can be viewed here.
"I'm truly excited for the opportunity to work on this season's Project Pink initiative," said Dobrev. "I love that it truly empowers young women to get involved and make a difference. Plus, I've always been an athlete, so I jumped on the chance to stand alongside and in support of some of these amazing female soccer players." Dobrev, a former gymnast, is a natural fit for the PUMA brand, which celebrates the active lifestyle and supports the health and well-being of women worldwide.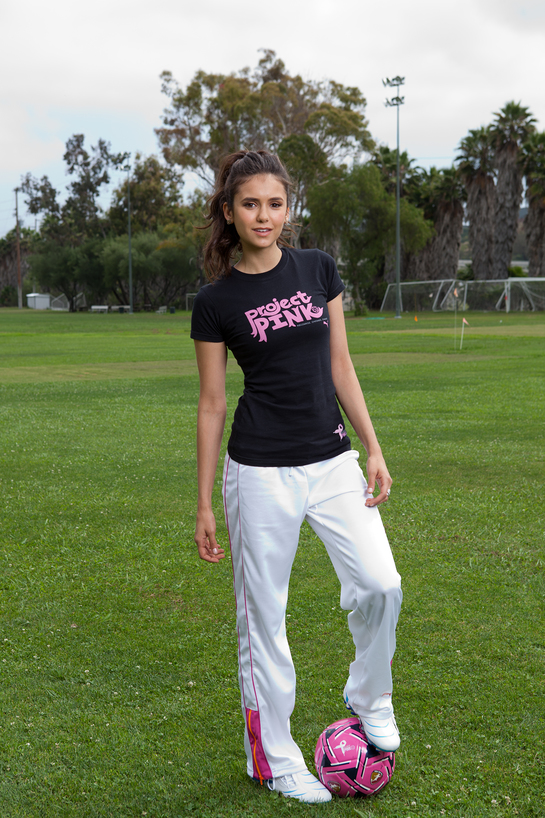 Look Good in Pink
PUMA's Project Pink Collection has been expanded this season, with offerings that include a full Project Pink uniform – down to a fabulously fluorescent pair of pink soccer socks – supercute lifestyle tees, a brand-new PUMA Project Pink watch, and a gym sack perfect for stowing the line's full-sized and mini soccer balls. In step with the 2010 initiative, PUMA has pledged to donate 100% off the profits from the sale of its Project Pink gear at PUMA Stores, online at Shop.PUMA.com, and at partner retailers across the country, including Eurosport and Soccer.com/PUMAWomen.
Make Your Voice Heard
Again this year, PUMA is leaving the decision of Project Pink's ultimate beneficiary up to young soccer fans, gathering nominations for deserving charitable organizations at www.puma.com/projectpink between July 17 and September 22; voting opens on September 26 and runs through October 7. The group with the most votes will receive 100% of profits from the sale of PUMA Project Pink merchandise, as well as additional funds raised via initiatives throughout the season, at the culmination of the program in October.