Stars from hit television shows such as "Survivor", "Big Brother", "The Amazing Race", "Desperate Housewives" and more used their star power for a greater cause this past weekend as participants of Hearts of Reality, a 3-day "Survivor Weekend" benefitting Give Kids The World Village.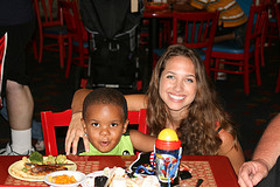 Maiara Walsh
Hosted by the City of Celebration, the event featured a Sidewalk Sale and "Sales" Survivor Treasure Hunt, as well as an autograph signing and a "Survivor Party" at the Celebration Town Tavern, with all funds raised through the autograph signing and party donated to GKTW.
More than 75 stars – including Russell Hantz (CBS's "Survivor Samoa"), Trent Garrett (ABC's "All My Children"), Maiara Walsh ("Desperate Housewives"), Jareb Dauplaise ("Transformers 2", MTV's "The Hard Times of RJ Berger"), Liz Lee (MTV's "My Life As Liz") and Ryan Anderson (Orlando Magic Forward) and girlfriend Gia Allemand (ABC's "The Bachelor") – made a special visit to GKTW on Friday to tour the resort and meet some of the wish children and their families. Attired with tiaras and swords, the stars enjoyed a poolside princesses and pirates party with the GKTW wish families.
"Give Kids the World is an amazing non-profit that provides children with life-threatening illnesses and their families a week to forget about the harsh realities that they are faced with on a daily basis," said actress Maiara Walsh (ABC's "Desperate Housewives). "You can see the ease and joy in their smiles as they wander through the impeccably crafted wonderland that is 'The Village'."
"We are so appreciative that these stars are using their fame to help us raise awareness for Give Kids The World," said Public Relations Manager Colette Krahenbuhl. "We rely fully on the donations that we receive in order to provide cost-free vacations to children with life-threatening illnesses and their families, so it's really important that we get our name out there."
The event raised over $10,000 for GKTW, which will help the charity continue its 25-year history of providing cost-free, Orlando vacations to more than 110,000 children with life-threatening illnesses and their families.
Find out more here.