On Friday night, March 5th, Oscar recipient Ernest Borgnine and fifteen year old charity founder Chandler Lutz hosted the Ernest Borgnine Pre-Oscar Party benefitting the Believe in Dreams Foundation at the Phantom Stage in Universal Studios.
This event brought together Hollywood's rising and legendary stars to celebrate the 82nd Annual Academy Awards and raise awareness for Believe in Dreams Foundation.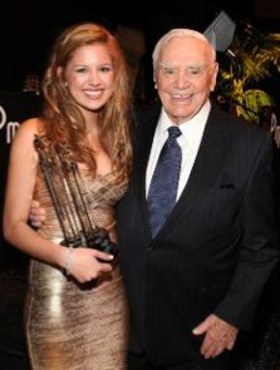 The red-carpet cocktail party was one of the most lavish and exclusive events during Oscar season. Guests were entertained by a full Swing band and had food choices ranging from a full sushi bar to Italian dishes to a complete carving station. There was a premium open bar and an abundant dessert tent full of sweets and treats and topped off with everything you could imagine to dip in a large chocolate fountain.
Celebrities in attendance included: Melanie Brown (Spice Girls), Maiara Walsh (Desperate Housewives), Nia Vardalos (My Big Fat Greek Wedding), Neil Hopkins (Lost), Sabrina Morris (Star Trek), Susan Lucci (All My Children), Tangi Miller (Felicity), Tatyana Ali (The Fresh Prince of Bel- Air), Gretchen Bonaduce (Reality TV star), Samantha Mumba (The Time Machine), Ben Decker (True Blood), Gedeon Burkhard (Inglorious Basterds), Doris Roberts (Everybody Loves Raymond), Derrick Deese (NFL player), Carol Connors (songwriter), Solomon Burke (singer/songwriter), Dave Lingwood (The Buried Life), Jonnie Penn (The Buried Life), Duncan Penn (The Buried Life), Ben Nemtin (The Buried Life), Roger Mosley (Magnum, P.I.), Jerry Mathers (Leave It to Beaver), Dawn Olivieri (Heroes), Scott Baio (Scott Baio is…45 and Single), Larry Manetti (Magnum, P.I.), Romi Dames (Hannah Montana), and Randal Kleiser (Director of Grease).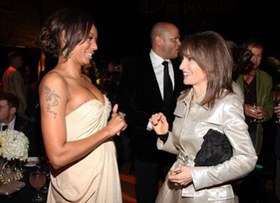 Melanie Brown "spiced" up the red carpet with her husband, Stephen Belafonte, and when offered a pashmina during interviews replied, "I'm British; I'm not cold." Melanie Brown also caught up with All My Children soap star Susan Lucci at the party.
Everybody Loves Raymond star, Doris Roberts, left the event with a last minute parting gift and perhaps a new centerpiece for her home table… one of the gorgeous flower arrangements.
Nia Vardalos (My Big Fat Greek Wedding) was very impressed with young Chandler Lutz (Believe in Dreams founder) who has single-handedly raised $100,000 for terminally ill children and their families over the past two months.
The cast of MTV's hit show "The Buried Life" arrived together. This group of down-to-earth, charming boys mingled with everyone and Ben Nemtin, who's dating Whitney Port, was spotted out on the dance floor getting the party started.
Gedeon Burkhard, from Oscar winning "Inglorious Basterds", was in high spirits as he attended the event with girlfriend Anika Bohrman, and he spoke with a number of people about how happy he was that the movie was doing so well.
Randal Kleiser (Director of Grease) met and absolutely loved Chandler Lutz and discussed wanting to cast her as lead of his new movie, "Live Stream".
At the end of the evening, Believe in Dreams Foundation founder Chandler Lutz gave a brief speech and presented Ernest Borgnine with the 1st Annual Believe in Dreams Foundation Award for following his many dreams and supporting the foundation.