Michelle Williams, three-time Grammy award-winning artist, former Destiny's Child member, and television sitcom star, has just wrapped up a Broadway tour and is a working an album for release in spring/summer 2012. But she's also using her voice in other ways, right now to spread and advocate the mission of the Training, Education & Research Institute (TERI), a non-profit dedicated to social change for persons with autism and other developmental disabilities and their families.
Following her godson's autism diagnosis a couple of years ago, Michelle became committed to furthering the education, resources, support and quality of life for those with disabilities and their families.
TERI is now aiming to raise $5 million by New Year's Even in order to complete its Charles R. Cono Campus for Life Quality, a university-like campus that will include everything from aquatic and equestrian therapy, nutrition and fitness, to research, special education, vocational training, and music and arts.
But it's not just that Michelle is lending her voice to raise money for those who cannot be heard, she's really working hard at it. Below are just a couple of ways Michelle is working with the charity right now: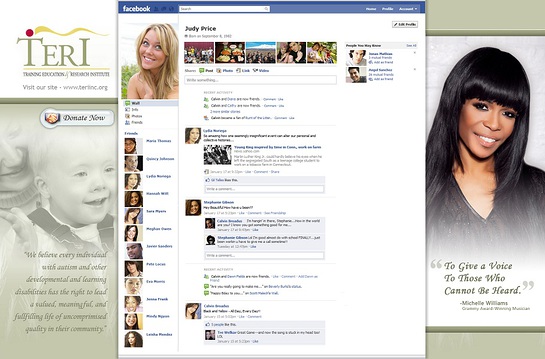 Cause Layouts. For every download of this custom Facebook layout, Cause Layouts is donating $1 to

TERI

. Find out more here.
Find out more about TERI here.