Non-profit organization To Write Love on Her Arms is proud to announce a new shirt collaboration with Christina Perri.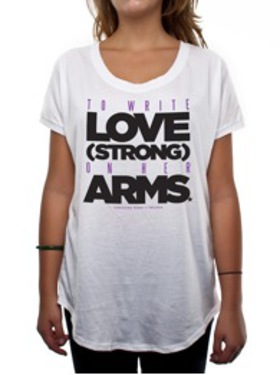 TWLOHA founder Jamie Tworkowski shared, "Christina is amazing. Her passion and support mean the world to us. She made it clear when I met her that this is something deeply personal for her. She has lived through pain and struggle, and now she's using her platform to let others know they're not alone in theirs."
Christina Perri is an American singer/songwriter whose song "Jar Of Hearts" was featured on FOX's So You Think You Can Dance and Glee, catapulting her career and selling over 2.7 Million copies. The shirt design represents her newest single, "Arms" from her debut album Lovestrong.
"When I was growing up and into the woman I am now, I was very sad," said Christina. "I had a little rain cloud over my head and heart and I didn't know why. I was always confused and insecure and felt not good enough, broken, ugly, and different. The older I became, the more I learned how to make myself feel better and how to turn my feelings and emotions into poems and songs. Eventually, I fell right into where I belong and started to like myself. It was very slow but it happened. I always wished I could go tell that little version of me that it was all going to be ok and get better and that I am and was in fact beautiful, strong, unique and a bright shining light. What I love about TO WRITE LOVE ON HER ARMS is that's what they do. They give everyone a chance to feel better now. They provide help + hope + self-love + strength + they save lives. I believe in getting help. I believe in not giving up. I believe in TWLOHA."
To purchase the shirt and find more information, please visit twloha.zambooie.com.
To Write Love on Her Arms is a non-profit movement dedicated to presenting hope and finding help for people struggling with depression, addiction, self-injury and suicide. TWLOHA exists to encourage, inform, inspire and also to invest directly into treatment and recovery. Since its start in 2006, TWLOHA has donated over $850,000 directly into treatment and recovery and answered over 160,000 emails from over 100 countries.
Since 2006, TWLOHA has been flourishing and continues to grow. TWLOHA has won numerous accolades including "Must Follow Non-Profit" award at this year's Mashable Awards, a full-page color ad in USA TODAY (valued over $185K) by winning the #AmericaWants Campaign and $100,000 in the Chase Community Giving Contest, coming in 2nd place. To promote TWLOHA in the Chase Community Giving Contest, Miley Cyrus, Joaquin Phoenix, and Liv Tyler made a special video together with Jamie Tworkowski. You can view the video here.