The No Bully Tour Invitational (Entertainers Against Bullying), a culmination of the music artists who previously participated in the Pop, Country and Pop West tours, will take place in Hollywood this Friday, August 26.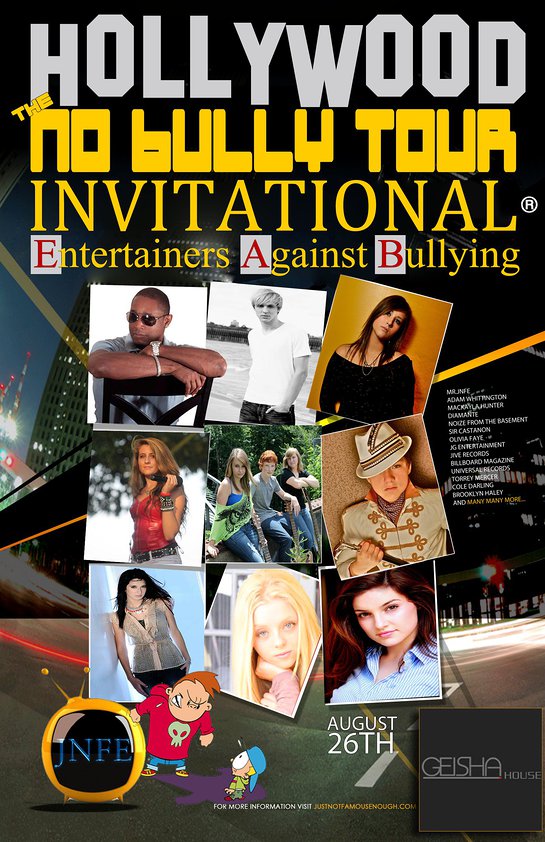 The performers will be a mixture of No Bully Tour artists past and present as well as showcase videos of bullying situations and resolution options. The show will be hosted by No Bully Tour Country host Jenna Christine. The red carpet will be hosted by JNFE TV's Cole Darling along with fashion experts who will cover what the artists are wearing to the event.
Other celebrities expected include Boo Boo Stewart (Twilight Saga), Natasha Alam (True Blood), Kaya Jones (former Pussycat Dolls), Taylor Ashlynn Beckett (Gene Simmons Family Jewels), Natalie Lopez (Desperate Hosewives), Louis Lombardi (The Sopranos), Kyle Massey (Dancing With The Stars), Chris Massey (Zoey 101), Carlos Ramirez (Crank 2 High Voltage), James Pitt (Avatar), Reb Brown (Captain America), Carlos Gallardo (Desperado), Lorenzo Lamas (Renegade), Maxi B (Mary Jane Girls), Austin Anderson (Victorious), Ava Allan (True Jackson) and many others.
The event takes place at Geisha House, 6633 Hollywood Blvd. More information can be found here.