Warner Bros. Consumer Products, internationally renowned dog behavior expert Cesar Millan and Scooby-Doo invite friends and family to come together for the Scooby-Doo and Cesar Millan National Family Pack Walk on Sunday, October 30, at Lake Balboa Park in Van Nuys, CA.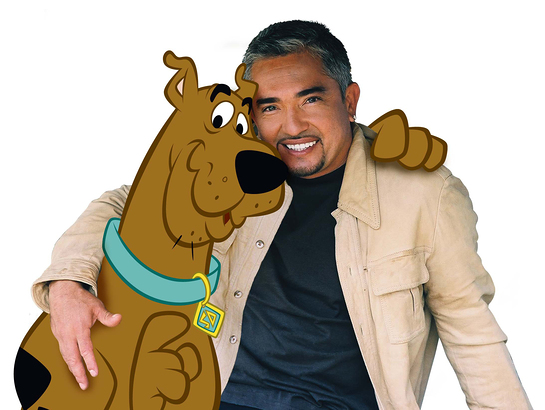 One hundred percent of the proceeds from the event will be donated to the Millan Foundation, which strives to create and deliver community humane education programs and promote animal welfare by supporting the rescue, rehabilitation and re-homing of abused and abandoned dogs.
As part of an ongoing partnership with Scooby-Doo and Cesar Millan, the National Family Pack Walk brings together humans and dogs for a day filled with fun activities, games, training and education. The entire experience is geared toward enhancing the relationship between owner and dog, kicking off with the main event – a 1.5-mile Pack Walk led by Cesar and the beloved Scooby-Doo.
"This is the second time WBCP and Scooby-Doo have partnered with Cesar Millan in a pack walk event and we couldn't be happier to help host this wonderful experience," said Karen McTier, Executive Vice President, Domestic Licensing and Worldwide Marketing, Warner Bros. Consumer Products. "Cesar is dedicated to creating balanced relationships between dogs and the entire family and truly personifies the love that owners have for their canine companions. Together, we have created an entertaining, family-friendly event in order to raise money for a fantastic cause."
"This is a movement towards reconnecting ourselves with our dogs and our dog community. It is more meaningful than just walking a dog," said Millan of the event. "I want it to be symbolic of being part of a community and group that is focused on building healthy relationships with their dogs and each other."
The event will have a seasonal theme, bringing in the spooky Halloween adventure befitting Scooby-Doo and his mystery-solving gang. The Expo will feature Scooby-themed activities from key Warner Bros. partners, licensees and charitable sponsors, creating a fun, interactive environment for families. In addition to the 1.5-mile pack walk around Lake Balboa Park, attendees and their furry friends will experience a Scooby-Doo Reading Lounge, a screening room featuring exciting new Scooby-Doo adventures, a gaming room for fans of Scooby video and online games, a photo booth, a scavenger hunt, a Halloween doggie costume contest, an off-leash doggie agility and training course, presentations by dog experts, a meet-and-greet with Scooby costume characters and the Mystery Machine, and snacks for the whole pack!
In the Scooby-Doo screening room, fans will be able to enjoy a preview of Warner Bros. Home Entertainment Group's (WBHEG) new Scooby-Doo release, Scooby-Doo Legend of the Phantosaur, as well as episodes from the first season of Warner Bros. Animation's animated adventure series Scooby-Doo! Mystery Incorporated. Season 2 of Scooby-Doo! Mystery Incorporated is coming soon to Cartoon Network.
All proceeds from the National Family Pack Walk event will be donated to the Millan Foundation which provides financial support to educational programs and non-profit animal shelters and organizations engaged in the rescuing, rehabilitation and re-homing of abused and abandoned dogs. The Foundation prioritizes funding for spaying and neutering programs to help reduce or eliminate dog overpopulation and has various initiatives, such as "Shelter Stars," "Spay & Neuter is Nothing to Whisper About," and the "Mutt-i-grees Curriculum," which are targeted towards the overall improved well-being of the canine community.
Additional Pack Walk details for participants:
Pre-register now at www.cesarsway.com/packwalk.
Onsite registration and check-in at the event will be held from 9:00 to 10:00 AM on October 30
Pack Walk begins at 10:00 AM with family fun from 11:00 AM to 2:00 PM
The fee for registration is $20 for adults and free for children
For more information on registering or to fundraise for the First Annual National Family Pack Walk, visit www.cesarsway.com/packwalk. For donations to this cause and special event, click here.