On June 2, 2015, Cesar Millan became the third American to receive an honorary diploma from Chulalongkorn University, in Bangkok, Thailand.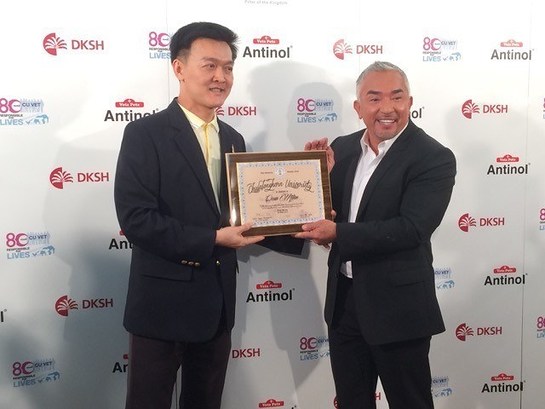 Millan was honored for his humanitarian services to rescue, rehabilitate and re-home abandoned and abused dogs around the world. In receiving the prestigious award, Millan was also recognized for his contribution to veterinarian and behavioral sciences. Millan received the award from the university's faculty on the 80th Anniversary of the founding of their Veterinary department.
"Responsibility for lives is our theme for the 80 year anniversary of Chulalongkorn University-Faculty of Veterinary Science," said Roongroje Thanawongnuwech, Dean of Chulalongkorn University. "The University wishes to recognize the contribution Cesar Millan has made to improving the conditions and care for dogs all over the world, as well as, for his tireless work to advance instinctual learning of canine behavior."
"I am honored and humbled to have received this award from Chulalongkorn University," said Millan. "It has been a privilege to be able share my instinctual approach to dog rehabilitation over the years and in so many Asian countries. I am pleased that the international community is embracing instinctual learning."
Millan has championed countless projects worldwide for animal advocacy. In 2007, he launched the Cesar Millan Foundation (CMF), a national non-profit organization, with the mission of promoting animal welfare by supporting the rescue, rehabilitation, and rehoming of abused and abandoned dogs; establishing and fortifying community humane education programs and curricula; and building a balance between dogs and people through the animal behaviourist teachings and philosophies he had honed throughout his career. The foundation has donated over 1 million dollars to develop and support Humane Education, supported the efforts of 3,000+ no-kill shelter affiliates, and has been instrumental in many other animal advocacy initiatives.
Millan received this award while on tour in Thailand for his live show, Love Your Dogs. The show is an educational and entertaining live show, in which Millan demonstrates his instinctual techniques on how to establish a balanced and happy relationship with dogs. The goal of the tour is to educate the international community of dog owners on how to create better relationships with their canine companions.
Chulalongkorn University is more than a century old, making it the oldest university under the modern Thai educational system. The institution is highly regarded in the nation and bears the Royal family's crest. Previous Chulalongkorn University honorary degree recipients include former United States Presidents Bill Clinton and Lyndon B. Johnson.