British TV presenter Angellica Bell has joined forces with pioneering charity Breakthrough Breast Cancer to be the ambassador for their annual fundraising campaign Go Pink launching in time for Breast Cancer Awareness Month in October.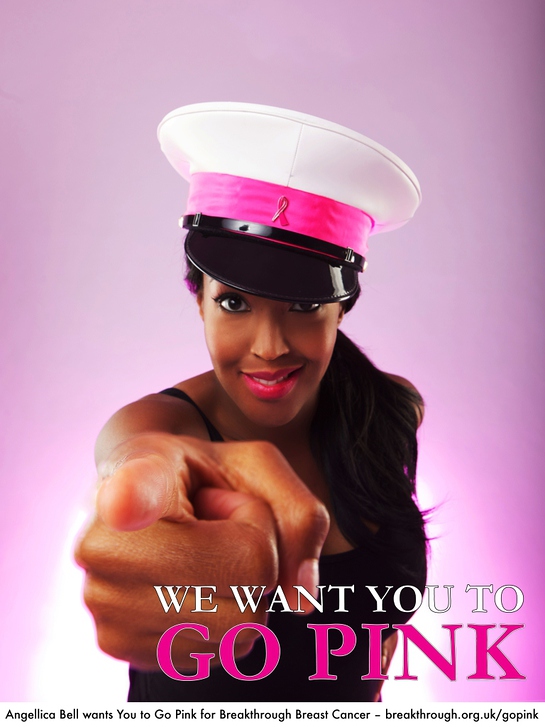 Go Pink, which takes place during October's Breast Cancer Awareness month, raises hugely important funds to help Breakthrough Breast Cancer in the fight against the disease. One in every eight women will be diagnosed with breast cancer at some point in their lifetime and 1,000 women in the UK die from the disease every month.
Angellica Bell Go Pink celebrity ambassador said: "I'm asking everyone to please Go Pink this October for Breakthrough Breast Cancer. I lost a friend to the disease so this is a cause incredibly close to my heart. I'll be hosting a Go Pink tea party but there are literally hundreds of ways to Go Pink, check out the website for tons more ideas. It's so easy and the money raised really will help save lives. So register now and get your pink thinking caps on!"
'Going pink' really could help save lives and it couldn't be easier. Whether at work, at school or with friends and family just take your favourite activity and give it a pink twist; you could dress pink, have a pink raffle, hold a pink bake sale or even organise a pink barn dance!
Anyone and everyone can get involved and if you are stuck for ideas, Breakthrough Breast Cancer has launched a brand new ideas-generator online – just fill in what you like to do and it will do the rest. Find this, more information and helpful fundraising tips at breakthrough.org.uk/gopink.
Becky Crowe, Community Fundraising Manager at Breakthrough Breast Cancer, said: "We are thrilled to have Angellica Bell on board for this year's Go Pink, and we know that with her support it's going to be our biggest year yet! We can't wait to see all the different ways people have fun with pink whilst also raising money to help in the fight against breast cancer. We really appreciate everyone's support and the funds raised really do make a difference to help save lives."
Breast cancer is the most commonly diagnosed cancer in the UK and Breakthrough Breast Cancer is leading the fight against the disease by developing new treatments, raising awareness and campaigning for better services for patients. Money raised from the Go Pink fundraising campaign will be spent on this vital research, campaigning and education work.
If you would like to organise your own Go Pink fundraising event it couldn't be easier – register for an enquiry pack full of ideas, tips and advice to make your Go Pink event a success visit breakthrough.org.uk/gopink or call 08080 100 200.