Internationally renowned dog behavior expert Cesar Millan and Scooby-Doo were joined by over a thousand dogs and their loyal owners for the Scooby-Doo and Cesar Millan National Family Pack Walk on Sunday, October 30, at Lake Balboa Park in Van Nuys, CA.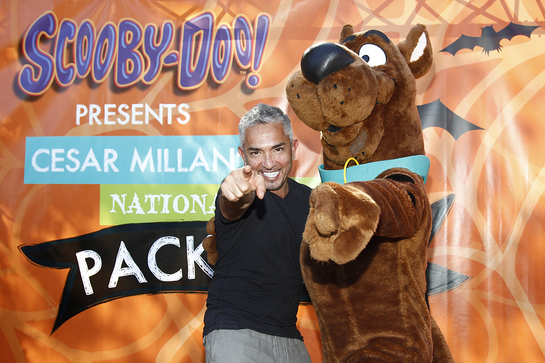 One hundred percent of the proceeds from the event were donated to the Millan Foundation, which strives to create and deliver community humane education programs and promote animal welfare by supporting the rescue, rehabilitation and re-homing of abused and abandoned dogs.
As part of an ongoing partnership with Scooby-Doo and Cesar Millan, the National Family Pack Walk brought together humans and dogs for a day filled with fun activities, games, training and education. The entire experience was geared toward enhancing the relationship between owner and dog, which kicked off with a 1.5-mile Pack Walk around the lake led by Cesar and the beloved Scooby-Doo.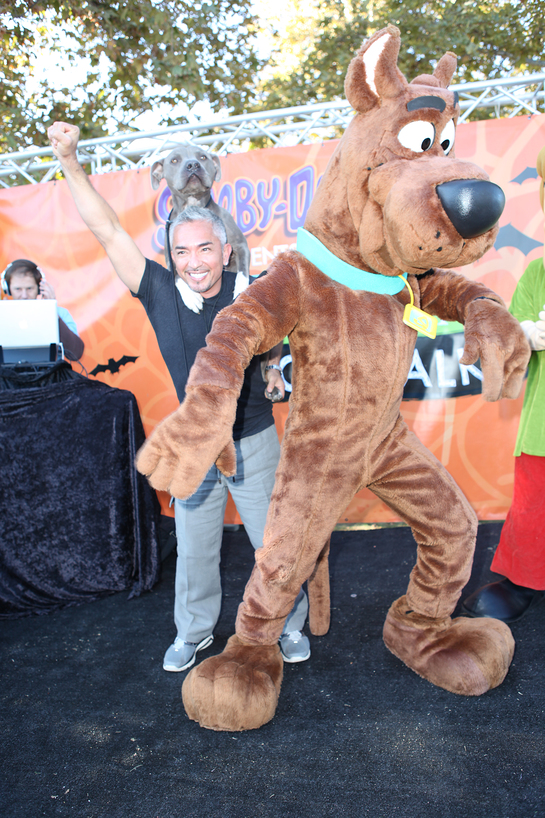 And the hot weather couldn't scare away the fun – people and pups of all ages came to enjoy the Halloween-themed event. Special guests included "General Hospital" stars, Maurice Benard (Sonny Corinthos) and Lisa LoCicero (Olivia Falconeri), actress and model Mayte Garcia (Firehouse Dog), LaMonica Garrett (Sons of Anarchy), and children's author David Shannon (Good Boy, Fergus).
Attendees and their furry friends who needed a beat from the heat took it easy in tented areas like the Mutt-i-grees Reading Lounge, the Monsterpiece Theater screening room,the Scooby Bark-cade gaming room, Barks & Crafts area and more. Other attendees teamed up with their pooches for photo booth sessions, a "Scooby-Doo, Where Are You?" themed scavenger hunt, a Halloween doggie costume contest, an off-leash Bone Yard Play Yard, doggie agility demonstrations by Muttley Crew and Urban Mushing, and a meet-and-greet with Scooby and Shaggy costume characters and the Mystery Machine. A community row of "Pack Pals" highlighted animal friendly offerings from Dyson, Pedestrian Pooch Valet and the International Association of Canine Professionals. The West Valley Animal Shelter was also on hand processing pet adoptions. An afternoon raffle awarded over $2,500 in prizes, including a Cesar Millan Training Basket, Scooby-Doo toys and games, a Dyson vacuum, and an iPad sponsored by ScrollMotion.
In the Scooby-Doo screening room, fans enjoyed a preview of Warner Bros. Home Entertainment Group's new Scooby-Doo release, Scooby-Doo Legend of the Phantosaur, as well as episodes from the first season of Warner Bros. Animation's animated adventure series, Scooby-Doo! Mystery Incorporated. Season 2 of Scooby-Doo! Mystery Incorporated is coming soon to Cartoon Network.
In the Mutt-i-grees Reading Lounge, children and their pets were treated to a special reading from author David Shannon of his best-selling children's book, Good Boy, Fergus, in addition to Scooby-Doo storybooks and a selection of stories from local Mutt-i-grees teachers. The Mutt-i-grees Curriculum is a new, innovative program that builds on children's affinity for animals and highlights the unique characteristics and desirability of "Mutt-i-grees," or shelter dogs. The Reading Lounge also demonstrated the latest in Scooby-Doo technological advancement with a new storybook app, "The Haunted Halloween: A Scooby-Doo You Play Too Book" for iPad from ScrollMotion.
Free product samples of tasty Scooby snacks such as General Mills' fruit snacks and Blue Bunny fruit ice face bars brought smiles to all participants. Lunch was served by some of LA's most famous food trucks including Me So Hungry, Del's Lemonade, Knockout Taco, Down Town Dogs and The Hungry Nomad.
All proceeds from the National Family Pack Walk event were donated to the Millan Foundation which provides financial support to educational programs and non-profit animal shelters and organizations engaged in the rescuing, rehabilitation and re-homing of abused and abandoned dogs. The Foundation prioritizes funding for spaying and neutering programs to help reduce or eliminate dog overpopulation and has various initiatives, such as "Shelter Stars," "Spay & Neuter is Nothing to Whisper About," and the "Mutt-i-grees Curriculum," which are targeted towards the overall improved well-being of the canine community.