Contemporary artist Takashi Murakami partnered with Christie's Auction House yesterday to hold "Artists for Japan," a specially-curated charity auction to benefit Japan earthquake and tsunami relief.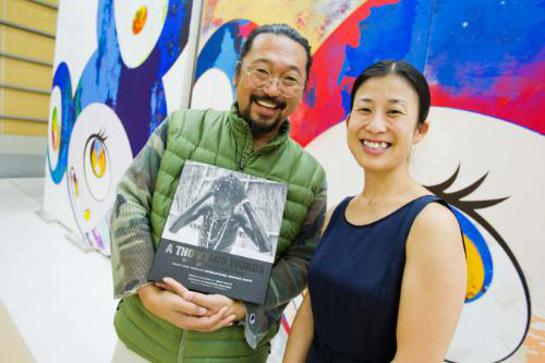 Takashi Murakami & Yumi Terahata, International Medical Corps Japan. Photo via International Medical Corps.
Oscar-nominated actor Ken Watanabe opened the "Artists for Japan" sale with a reading of a Japanese poem, selected especially for the occasion. Mr. Watanabe's appearance came with the cooperation of the Japanese website and initiative Kizuna311, which was launched after the disasters to offer moral and emotional support to those affected.
Proceeds from the sale, including works made by some of the biggest names in contemporary art selected personally by Murakami, will be contributed to humanitarian organizations including International Medical Corps, which has delivered healthcare and training services since immediately following the March disaster.
The November 9th sale in New York featured donated works from noted contemporary artists including Murakami, Damien Hirst, Jeff Koons, Yoshitomo Nara and Cindy Sherman among others.
"We are tremendously grateful to Takashi Murakami and Christie's Auction House for holding this generous charity auction to benefit survivors of the Japan earthquake and tsunami," said Nancy A. Aossey, President & CEO of International Medical Corps. "With their support, International Medical Corps will be able to continue supporting our local Japanese partners and effectively delivering healthcare services to survivors who suffer from the long-term health and psychosocial effects of a disaster of this magnitude."
Murakami recently met with International Medical Corps Japan Country Director, Yumi Terahata, at his art studios in Saitama, Japan, to express his commitment to supporting survivors of the catastrophe.
"The damage which resulted from the recent earthquake was great and yet, there are other disasters occurring somewhere in the world every day. If we do not address the root causes of the chaos which arises from these disasters, both natural and man-made, then our problems will continue reoccurring and their severity will only grow worse, eating further away at the heart and mind," said Murakami. "It is with the goal of engaging people in a shared understanding of this catastrophic state of affairs that I hold this event; if an art auction can serve as the impetus for such understanding, then I am hopeful that we can make our present hardship worthwhile."