On 5 December, 2018, in Miami, (RED), Sotheby's and Gagosian came together to raise $5.5 million to support the fight against AIDS.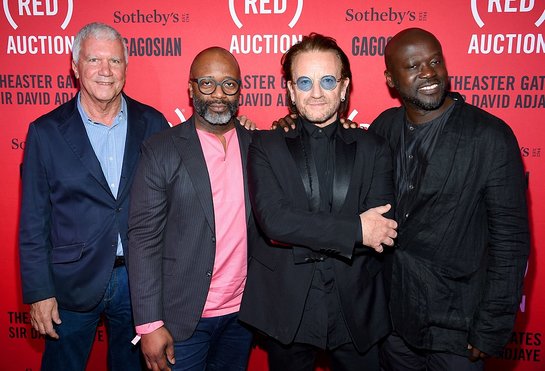 The third (RED) Auction totaled nearly $11 million, including matching funds by The Bill and Melinda Gates Foundation.
Curated by art and architecture stars Theaster Gates and Sir David Adjaye OBE in collaboration with musician and activist Bono, the auction featured contemporary art and design donated by Jenny Saville, Sean Scully, Sir Jony Ive and Marc Newson, Jennifer Guidi, Frank Ghery, Christo, Jeff Koons and many more prominent creators. In addition, Sir David Adjaye and Theaster Gates created unique pieces for the sale.
Centered on the theme of light and the color red, the auction was led by Theaster Gates 'A Flag for The Least of Them,' which achieved $807,000, an auction record for the artist. Additional auction records were set for artists including Jennifer Guidi, Ebony G. Patterson, Hank Willis Thomas and Leo Villareal.
Now closed for bidding, the accompanying (RED) Online sale helped bring the total raised to nearly $11M for the fight to end AIDS. The online auction was led by Ti-A Thuy Nguyen's 'Scarlet Mist,' which sold for $100,000 and set an auction record for the artist. The public exhibition presented by Gagosian, designed by Rene Gonzalez Architects and produced by Claire Breukel, was on view at the Moore Building through 7 December. The building donated by Craig Robins.
To date, (RED) has generated more than $600 million for the Global Fund to support lifesaving HIV/AIDS programs in Africa. Proceeds from the evening will go to the Global Fund to Fight AIDS to provide life-saving HIV/AIDS programs in sub-Saharan Africa, while also helping to fund community-strengthening programs in Chicago with the Rebuild Foundation – an organization championed by Theaster Gates.
The December event follows two previous (RED) Auctions conducted by Sotheby's. The first, organized by Bono and Damien Hirst in February 2008, featured works donated by Hirst, Banksy, Anish Kapoor, Marc Quinn, Georg Baselitz and Howard Hodgkin, among others, and established 17 new auction records. The second, curated by Jony Ive and Marc Newson in 2013, offered important 20th- and 21st-century design, and attracted matching funds for the AIDS fight from The Bill and Melinda Gates Foundation.
Bono, (RED) co-founder, commented, "These auctions have been game changing for the AIDS fight. It's not just about the cash they bring in, which is literally lifesaving – but it's also about the heat, about keeping this epidemic on the public agenda. Art has always been a vehicle for activism and for truth telling and the truth of the matter is that we're at a pivotal point where the progress we've achieved is in real jeopardy. Theaster and David – and all the artists here tonight – are raising the red flag at a critical time when fatigue and complacency are very real threats to the future of this virus."
"Conjuring this exhibition has been such a privilege. We are so grateful to the art, architecture and design community, all of our friends and colleagues who stepped up for the third (RED) Auction to contribute such beautiful work," said Sir David Adjaye.
"Pieces of work that now will extend beyond traditional utility and serve an even greater purpose in helping save lives," continued Theaster Gates.
Oliver Barker, Chairman of Sotheby's Europe and the auctioneer for the (RED) Auctions, said, "It has been an incredible honor for Sotheby's to partner with (RED) for a third auction in the fight against AIDS. Bono, Theaster and David have been extraordinary collaborators, and the enthusiasm of the artists who donated works of contemporary art and design had a direct impact on the outstanding prices achieved tonight."
Larry Gagosian commented, "It is an honor to support my friend Bono and (RED) in their impactful, and necessary, work in the global fight against AIDS. Sir David and Theaster were the perfect choice to curate the auction as they are two artists who best speak to the times in which we live. Since the first auction 10 years ago with Damien Hirst, I continue to be proud of the art community for their unwavering generosity and support."
"(RED) is making spectacular contributions to the fight to end AIDS, creating powerful collaborations infused with innovation and imagination to save lives and accelerate our progress towards ending the epidemic," said Peter Sands, Executive Director of the Global Fund.