By Allison DiLiberto on
On Thursday, November 3, Look To The Stars' Allison DiLiberto attended the 2nd Annual Jam For The Kids at Manhattan's Hiro Ballroom at the Maritime Hotel (88 9th Ave), which benefited The Hole in the Wall Gang Camp.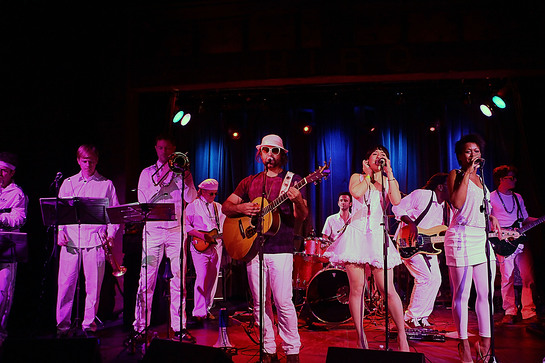 Brother Joscephus & The Love Revival Revolution Orchestra, courtesy Jeffrey Ufberg Photography
The Hole In The Wall Gang Camp, founded by Paul Newman in 1988, is a non-profit, year-round center serving children and their families coping with cancer, sickle cell anemia, and other serious illnesses. Through summer sessions and family weekend programs at the Camp in Ashford, CT, and year-round outreach to hospitals and clinics throughout the Northeast, the Camp will serve more than 17,500 children in 2011.
Howard Glynn and Todd Berger, who started this benefit last year, raised $7,500 this year, with donations still coming in. The funds raised will go to support summer camp sessions for sick children, so that they can experience the joy of camp free of charge.
This year's event was a huge success with an attendance reaching close to 500 people, dancing the night away to the soulful musical styling of 13-year-old prodigy Charlie Dane, who opened, and the funky New Orleans ensembles Papa Grows Funk and Brother Joscephus & The Love Revival Revolution Orchestra.
When asked what he thought of the turn out, organizer Howard Glynn said: "It was a great party and wonderful time had by all. We would like to build on this year's success by continuing to grow it larger each year."