By Delinda Lombardo on
Currently a member of the US Women's National Team, Leslie Osborne received her first call up in 2003 and now has 59 caps for the US Team. In 2006 she was chosen as a finalist for the US soccer player of the year. In September of 2007, she competed in her first World Cup and earned the bronze medal.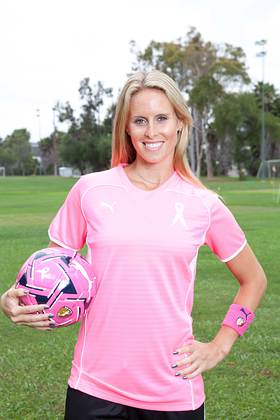 Additionally, Osborne has proven herself off the field, running her own soccer camps around the country, and tirelessly promoting America Scores, Boys & Girls Clubs, and Puma's Project Pink, among others.
With such an impressive resume of charitable work, Look to the Stars was eager to ask the classy kicker a few questions.

Tell us about Puma's Project Pink and how you came to be involved?
Project Pink is an initiative that PUMA developed alongside the female soccer community to help give young women a voice in support of the fight against breast cancer. PUMA hosted Project Pink games, donated 100% of their profits from the sale of Project Pink gear, and created a Twitter hash tag, #projectpink, to help raise awareness — they even donated an extra $1 every time the hash tag was used. PUMA empowered young women to decide who would ultimately benefit from the money that was raised and, at the end of the 2011 program in October, we were really proud to donate over $100,000 to the Dr. Susan Love Research Foundation. 

What does Puma's Project Pink mean to you personally? Why is it important for you to be involved?
It means a lot to me and relates to me directly in many ways. I realize I'm in a special position to help make an impact, and I'm happy to do whatever I can to help raise awareness and funds. Project Pink is a unique program and really special in the way that it hits home. 

After the FIFA Women's World Cup against Japan, you stated that the 'women showed strength, dedication, unity, determination, fight, heart and many, many other things.' Which essentially makes you, Tasha, Marta and Julie Foudy natural fits for Puma's Pink Project campaign. With that in mind, and knowing there appears be a shortage of role models for young women, do you think female celebrity/athletes have a responsibility to encourage the next generation of Project Pink warriors?
Tasha, Marta, Julie and I are all competitors and warriors with strength, dedication, fight and heart in a lot of areas in our lives. It's really special that people get to see us on the field, but what we do off the field is just as important. I don't want to say that celebrities or athletes have to feel like they have to get involved, because it won't have the same effect if they're not doing it because they want to and they don't feel passionately about it. When an athlete or a celebrity does realize the impact they have on the younger generations, it's a truly inspiring and amazing thing. It's the small things that make a huge difference and go a long way.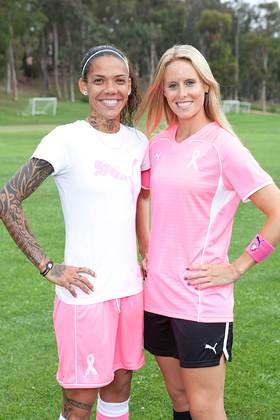 What is the perception of female professional athletes in this country and how has that changed over the last 10 years?
Well, that's probably a question for someone who is currently not an athlete, but I'll answer it as best and as unbiased as I can. I think, now, a female professional athlete is perceived as strong, powerful, dedicated, competitive, and more beautiful/feminine than maybe she was 10 years ago. Female athletes today are able to express themselves, even when they are competing. Serena Williams wearing her fashion line while dominating on the court with big earrings, a funky top, colorful skirt and bracelets —10 years ago, you wouldn't have seen that. I also think female athletes are getting involved in a lot more than just competing. For example, you see athletes on Dancing with the Stars, doing charity work, broadcasting on ESPN. You learn so much playing sports, growing up and professionally, and it's great to see the benefits on and off the field. 

Any personal (off the field) experiences that have inspired you to give back?
Of course. There are examples every day. I grew up in Wisconsin where I didn't have a lot of great role models, so I think about all the kids all over the country and the world who might not have someone positive to look up to. I have lived a very blessed life, and sometimes you can get caught up in the small things. I feel that the challenges I've faced have happened to me for a reason, to keep me grounded and reminded how lucky I am and how much it means to give back. That's why I'm an ambassador for Grassroot Soccer, I'm involved in America Scores, I go and visit kids at the Children's Hospital in Boston, and I run my camps/clinics for kids around the country. With every little thing I can do, I believe I can make a small impact. 

If you were to go one-on-one against any professional male soccer player, who would it be?
I would like to play with Xavi and Iniesta from Barcelona. They are two of the best center midfielders in the world — so maybe not against them, but I'd like to play with them. Or maybe have a training session… 

Tell us about your soccer camps?
I have been doing my soccer camps since 2005. My best friend and I started Osborne Tarpley Academy and we have done clinics in Wisconsin, Illinois, California, Arizona and Boston. We both grew up in the Midwest and love working with kids. We realize how important it is when kids get to meet and learn from great role models. We usually do a clinic where there are multiple sessions on the field but also off the field — we realize that this is usually where kids are impacted most. I am very lucky and love being on the field with the kids. 

Julie Foudy held one of her camps in Wisconsin when I was 12 — I met her and she told me that, one day, if I continued to work very hard and get better, maybe I could play for the US team. That was a VERY SPECIAL moment for me. I like to think that maybe I can have an impact on someone like that going forward. 

Which talent would you most like to have that you don't?
On the field – I would like to be really, really fast and just dribble around everyone. I used to do that when I was younger and I miss that. Now, I rely on my long legs and my fitness because I'm not as fast.
Off the field – I would like to be able to sing. I'm tone deaf, which doesn't help. 


What do you admire most in others?
I appreciate hard work. No matter what you do, just work hard. It's such a great tool for life. You will be successful in life if you work hard and secondly, if you have a good attitude, even when times are tough.
If you could ask people to do one thing, what would it be?
Smile, be happy, make a difference. 


How would you like to be remembered?
For being a good person. Yes, being a great athlete and soccer player is great, but it's more important for me to be remembered as a good person and someone who made a difference in the world.
Look to the Stars and this writer, would like to thank Puma and Leslie for taking the time to speak with us.