Pete Wentz of Fall Out Boy is teaming up with online community MASScanvas, encouraging fans to design and illustrate "POWER" themed T-shirts. A portion of the sales of winning T-shirts will benefit Invisible Children.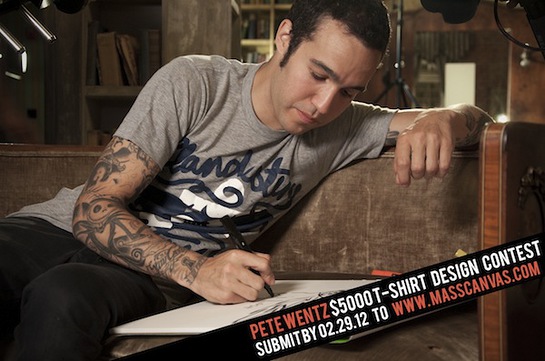 Starting Wednesday, February 1, fans can submit designs for the "POWER" challenge until February 29th at masscanvas.com. ALL entries will be featured on masscanvas.com. Entrants and fans can comment on designs throughout the challenge and VOTE for the top 20 designs. On March 22, Pete Wentz will choose 5 winning tees (each receiving a $1,000 cash prize), from the top 20, which he feels best represent the theme. The 5 winning tees will be printed in limited quantity, individually hand-numbered, and sold in support of the charitable cause.
What does the contest entail? "Maybe it's not the typical public perception of power… but I'm talking about the power that everyone has within them. To me what separates the top designs from all the rest is one where you can see that the person put their heart into it. You can see that they really believe in the grander idea," says Pete.
Watch the video of Pete discussing the challenge here.