During the weekend, iconic singer, songwriter, humanitarian, Rock and Roll Hall of Fame inductee and four-time GRAMMY Award winner Steven Tyler, and Live Nation celebrated the inaugural Janie's Fund Gala with an exclusive live viewing of the 60th Annual GRAMMY Awards telecast, elegant dinner, and unforgettable night of performances at the historic RED Studios Hollywood.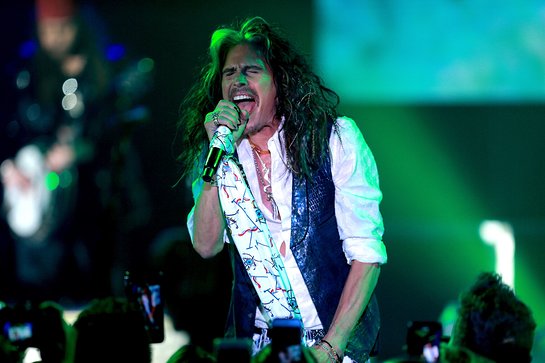 The inaugural event raised over $2.4 million dollars for Janie's Fund, a philanthropic initiative created by Tyler in partnership with the national family services nonprofit Youth Villages to bring hope and healing to girls across America who have suffered the trauma of abuse and neglect. Tyler first gave voice to this cause with his hit "Janie's Got a Gun," and his establishment of the fund ensures that these vulnerable girls will have an enduring voice for years to come.
Celebrities, VIP guests and Janie's Fund supporters in attendance included Alice Cooper, Ashlee Simpson & Evan Ross, Ashley Tisdale & Christopher French, John Corbett & Bo Derek, Caitlyn Jenner, Cheech Marin, Chelsea Tyler & Jon Foster, Cody Simpson, David Foster & Katharine McPhee, Francesca Eastwood, Haley Reinhart, Jason Sudeikis & Olivia Wilde, Joey Kramer, Matt Sorum, Melissa Peterman, Moby, Nina Dobrev, Nuno Bettencourt, Pete Wentz, Randy Jackson, Ruby Rose, Sharon Stone, Sophia Hutchins, Suzanne Sommers, Terry Crews and more.
Following the star-studded red carpet arrivals, Tyler hosted guests at an intimate VIP cocktail reception – true to his style, the transformed rock 'n roll chic space featured custom velvet drapes and glowing chandeliers with hanging scarves. The London Essentials entertained guests roaming around the party performing acoustic classics and ushering the guests into the decadent ballroom to watch the GRAMMY Awards telecast live.
Guests were then treated to a multi-course dinner menu designed by Trisha Yearwood while emcee Melissa Peterman had the audience in stitches throughout the evening. Following the telecast, celebrities took part in the live auction which featured exclusive trips including a VIP New Orleans Jazz Fest experience featuring Aerosmith, and original artwork and photographs by Christopher Makos, The Haas Brothers, Mr. Brainwash, Bernie Taupin, and more. Auction highlights included Terry Crews and Olivia Wilde purchasing custom scarves designed by Tyler and limited edition event prints by Brian Fox. Sharon Stone placed the highest bid of $116,000 for the exclusive Christopher Makos print of Andy Warhol kissing John Lennon.
The inaugural gala was capped off with Sharon Stone introducing Tyler and his Nashville-based band, LOVING MARY, who performed the classic hits "Sweet Emotion," "Dream On," "Jaded", and more. The jovial crowd was surprised when Nuno Bettencourt took the stage performing his hit "More Than Words" with Tyler. During "Walk This Way," Tyler was also joined by Aerosmith's drummer Joey Kramer and a West African drumming group featuring the girls supported by Janie's Fund.
Sponsors for the event include Kia Motors, Hilton, and Patrón Tequila.
Co-chair supporters for the event included Aerosmith, Alice Cooper, Andrea Bocelli, Bo Derek, Britney Spears, Sir Elton John, Jim Carrey, Joaquin Phoenix, Joe & Marjorie Walsh, Kate Hudson, Lionel Richie, Sharon Stone, Whoopi Goldberg, and Yoko Ono.