American Idol finalist James Durbin and recording artist Orianthi played a special concert at Center Staging in Burbank, CA on March 2 to benefit the Rock School Scholarship Fund, a non-profit group that funds music lessons and provides instruments for kids 7-17 who want to attend any rock school nationwide, but whose parents don't have the financial means.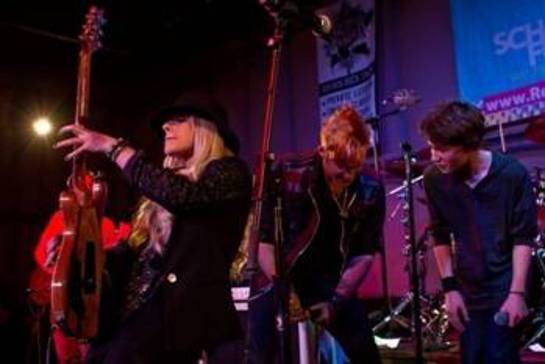 Both James and Orianthi joined several student bands for various cover songs and, after playing several songs with the Burbank Music Academy student band Full Count, Orianthi performed her original song "Heaven in This Hell" with the School of Rock North Hollywood.
"I had so much fun jamming out with the kids," Orianthi said. "They are all so talented and sweet. I knew from when I was six that music would be my life and I used to spend most of my time in the music room. It's sad to hear that music programs are often removed from public schools, so it meant a lot to be a part of the Rock School Scholarship Fund show."
James, a former scholarship student, performed his original song "Stand Up" with NINE, a student band from the Burbank Music Academy. He and Orianthi later performed Ronnie James Dio's anthem "Rainbow in the Dark" with the School of Rock North Hollywood. For James, it was the first metal song that he ever heard and the rocker dedicated the song to Ronnie.
"If it weren't for music scholarships I wouldn't have been able to learn what I know now," James said. "I play music because it's what I love to do and every single kid that I met at the event had that same fire. I'm so happy I got to do this because it reminds me to have fun. Playing with those kids brought my fire back. The fire that made me want to be a singer in the first place. A huge thank you from the bottom of my heart to the RSSF, the teachers, all the kids and to anyone and everyone who supports this great cause."
Additional celebrity items in the silent auction included a PRS SE Orianthi Red Sparkle Guitar signed by Orianthi, a Fender Squire Special Edition Guitar signed by James Durbin, an autographed R.E.M. drumhead, a private guitar lesson with new music artist Erica Chase, two VIP meet and greet tickets to any Todd Rundgren concert, two Orchestra tickets and cast meet and greet for "Rock of Ages" at the Pantages Theatre in Hollywood and a tour of the Fender Guitar Factory for a winner and four friends.
During a break in the concert, Center Staging General Manager Michael Anderson also surprised the school with a $5,000 check while donations from event sponsors Monster Energy Drinks, Karma Tequila and St. Clair Brown Winery raised additional funds.
"I started the scholarship fund with Carl Restivo, when we ran the School of Rock in Hollywood," said Wendy Winks, executive director of the Rock School Scholarship Fund. "Kids would come through with their parents and be so excited about our music program, but many families could not afford the $325 per month tuition. We created the scholarship fund so that kids who want to rock can have that opportunity. It's a fantastic way for kids to learn to play music."
For more information about the Rock School Scholarship Fund, visit www.RockSchoolFund.org.