The winners of Pete Wentz's "POWER" T-Shirt Design Challenge have been announced and t-shirts are now UP FOR SALE – and LookToTheStars.org is giving one away in an exclusive contest!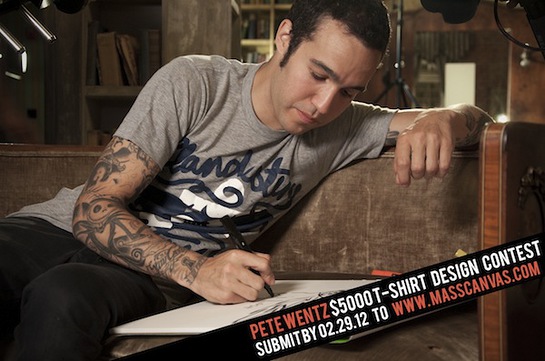 After receiving hundreds of design submissions and votes, the Fall Out Boy frontman selected the top 5 tees that best represented the theme of "power." Hand-numbered and printed in limited quantity, head over to MASScanvas's store to see the winning designs and snag a tee before they sell out! A portion of all sales will be donated to Invisible Children.
Watch the video of Pete announcing the winners here.
LookToTheStars.org is excited to give our readers the chance to win one of these fabulous tees. To enter, Facebook users can leave a comment on this story on our Facebook wall. Twitter users can enter by tweeting this story, or retweeting our tweet about it. If you're on both Facebook and Twitter, you can enter twice! We'll pick a winner at random on Friday, and get in touch directly.