DKMS, the world's largest bone-marrow-donor center, and the organization's founding corporate sponsor Coty are excited to announce that Leighton Meester and Vera Wang have teamed up to encourage people to "Share the Love" by registering as bone-marrow donors to potentially save lives.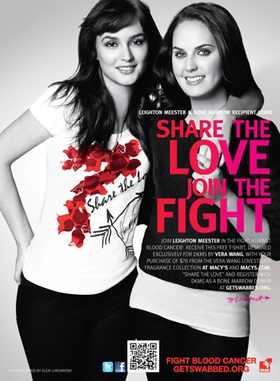 Beginning March 28, fashionable consumers will receive a free "Share the Love" T-shirt, designed exclusively for DKMS by Vera Wang, with a $78 purchase from the Vera Wang Lovestruck fragrance collection.
"I'm excited to be working with DKMS and Leighton Meester on such an important cause," said Wang. "I designed the 'Share the Love' T-shirt as a reminder that we each have the power to fight blood cancer and save someone's life. It's easy to become a bone-marrow donor: Get swabbed!"
The power to save lives comes to fashion: The "Share the Love" campaign encourages people to register as bone-marrow donors at GetSwabbed.org. Everyone can join the fight against blood cancer by wearing the "Share the Love"' T-shirt, designed by Wang exclusively for DKMS.
"'Share the Love' is an altruistic idea of love—it's about giving the gift of life to a stranger," said Meester. "You can register as a donor by going to GetSwabbed.org. It's easy, and the more people get swabbed and are willing to donate, the more lives we can save — and that's pretty incredible."
Recently, Leighton teamed up with 19-year-old blood cancer survivor Kerri Mullen, who inspired this campaign, to create a PSA for DKMS urging people to join the fight against blood cancer. Kerri, a native of Morristown, N.J., was diagnosed with leukemia in March 2008 at 16 years old. She is one of the 30,000 recipients of a bone-marrow transplant facilitated by DKMS and Coty—she received her transplant in July 2008, and now her cancer is in remission. With a second chance at life, Kerri has since graduated from high school and is currently attending college where she is majoring in liberal arts.
Check out the PSA with Leighton and blood cancer survivor, Kerri here.
Sadly, not every story has a happy ending like Kerri's, but that can change with your help! Every day, thousands of patients search the national registry in hopes of a bone-marrow-donor match. Fewer than 30 percent of patients find a match in their own family; the remaining more than 70 percent must search for an unrelated donor. Unfortunately, with a lack of donors in the registry, six out of 10 patients will not receive a lifesaving transplant.
"DKMS is grateful to Coty for our long-standing partnership. We're honored that Leighton Meester and Vera Wang, both incredible supporters of our fight against blood cancer, are part of this amazing campaign," said Katharina Harf, founder and spokeswoman of DKMS Americas. "If everyone registers as a donor, we can save countless lives. I urge you to go to www.getswabbed.org to order your kit. Share the love. Join the fight!"
Registering to become a bone-marrow donor is a commitment to help save a life. You must be between 18 and 55 and in good general health. When you register with DKMS, you will also be listed on the national registry and can be found as a donor match for any patient in need of a bone-marrow transplant.