Appearing at a special reception at South Florida's gourmet vegan restaurant Sublime, Dancing With the Stars alumna and the newest star to join The Real Housewives of Miami, Joanna Krupa, unveiled her "Be an Angel for Animals" ad campaign for PETA this week.
In the ad, Krupa appears as an angel holding a rescued dog beside the words "Save a life by adopting from an animal shelter." Guests at the event included pro surfer Karina Petroni, Telemundo's Natalia Villaveces, and El Talismán's Pablo Azar.
"We're spreading the word that breeding your dog or cat isn't the way to go," says Krupa. "Somebody needs to put their foot down and stop this breeding and these hideous puppy mills. Dogs're in these little tiny cages for life. It makes me so angry, and if our government doesn't do anything about it, I have to!"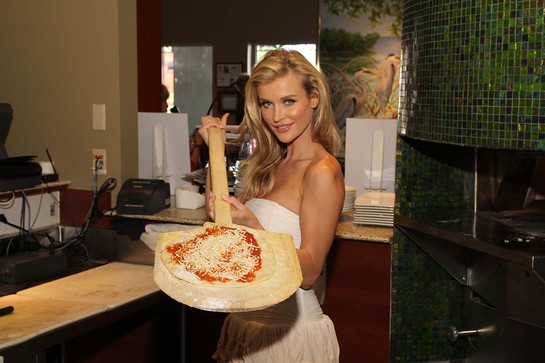 Every time an animal is bought from a breeder or a pet store, a homeless animal in an animal shelter or roaming the streets loses a chance at finding a good home. Each year, 6 to 8 million unwanted dogs and cats are turned over to animal shelters, and half of them are euthanized because there aren't enough good homes. The answer to the animal overpopulation crisis is always to spay and neuter dogs and cats—and always to adopt from animal shelters and never patronize pet stores or breeders.
Photos via PETA.