Phil Keoghan, host of "The Amazing Race," and the women cyclists of the professional "NOW and Novartis for MS" team are joining with Novartis Pharmaceuticals Corporation for a second year in a row to raise awareness of MS.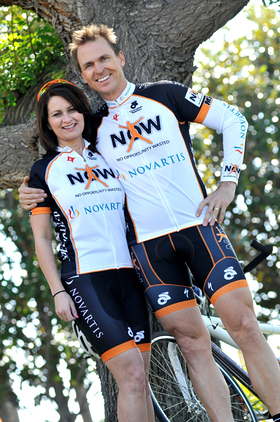 The campaign, "Together in MS," will support the MS community and show that MS does not have to define the more than 400,000 people in the U.S. living with the disease.
This year, Together in MS will partner Keoghan and a group of world class, professional women cyclists with people living with MS to ride tandem bicycles in National MS Society Bike MS events across the country. Keoghan will ride tandem with Regina Lyalls, a dedicated mother, passionate MS advocate, and driven professional who refuses to let her relapsing MS define her.
"I am a passionate MS advocate, and raising awareness for MS is something that I've been involved with for years," said Keoghan. "Novartis shares my longstanding commitment, and I'm excited to have the opportunity to work together once again to educate and empower people living with this potentially disabling disease. Riding tandem with Regina is going to be a thrill. She's an incredible woman and an inspiration to us all."
Lyalls, Keoghan's tandem cycling partner, has a unique – and very meaningful – connection to the Bike MS program. "I signed up for my first ride before I knew I had MS," said Lyalls. "On the same day I received my registration packet, my doctor called with my MS diagnosis. But I didn't let my MS define me then – and I'm looking forward to riding tandem with Phil to show others living with MS that they can still aspire to do great things."
The tandem cycling tour begins on May 12 near Minneapolis-St. Paul with five stops nationwide. In each city, Novartis will host rallies open to ride participants and local MS community members and supporters. Attendees will have the chance to meet with the team as well as learn valuable tips from the professional riders.
"Together in MS is an exciting opportunity for Novartis and our way to support people with multiple sclerosis and their loved ones," said André Wyss, President of Novartis Pharmaceuticals Corporation. "We are committed to supporting the MS community and this is a commitment that we each take very personally. I'm especially proud that hundreds of our employees will be participating as part of Team Novartis in more than 20 National MS Society Bike MS events across the country."
Together in MS builds on the success of NOW and Novartis' collaborative 2011 initiative, which inspired thousands of people while cycling over 650 miles at 10 Bike MS events throughout the country.
For more information about Together in MS, including a schedule of rides and events and ways to show support or become involved, visit www.TogetherInMS.com.